Dr. Heather Braun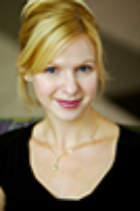 Title: Assistant Professor, Honors Advisor
Dept/Program: English
Phone: 330-972-6243
Email: hbraun@uakron.edu

---
Biography
Heather Braun received her Ph.D. in English from Boston College. Her primary research interests include Victorian literature, British Romanticism, women writers, the Gothic, Digital Humanities, and Adolescent Literature.
---
Publications
The Rise and Fall of the Femme Fatale in British Literature, 1790-1910. Madison, NJ: Fairleigh Dickinson University Press, 2012.
"Idle Vampires and Decadent Maidens: Sensation, the Supernatural, and Mary E. Braddon's Disappointing Femmes Fatales." Antifeminism and the Victorian Novel: Rereading Nineteenth-Century Women Writers. Ed. Tamara Wagner. Amherst, NY: Cambria, 2009. 235-54.
"'Calling Out from Below': Decadence and Sensual Exhaustion in Oscar Wilde's Salomé." Melmoth: A Digest of the Victorian Gothic and Decadent Literature. Ed. Sondeep Kandola. University of Leeds. No. 2: November 2008. 25-26.
"'Set the Crystal Surface Free!': Mary E. Coleridge and the Self-Conscious Femme Fatale." Women's Writing 13.4 (Winter 2007): 496-507.
"The Seductive Masquerade of The Wild Irish Girl: Disguising Political Fear in Sydney Owenson's National Tale." Irish Studies Review 13.1 (2005): 33-43.
"English Comedy, Victorian." Comedy: A Geographic and Historical Guide. 2 vols. Ed. Maurice Charney. Westport, CT: Greenwood, 2005. 280-95.
"Mamet in the 1990s." The Cambridge Companion to David Mamet. Ed. Christopher Bigsby. Cambridge: Cambridge UP, 2004. 103-23.
---
Education
Ph.D., Boston College
---