LaKeesha Ransom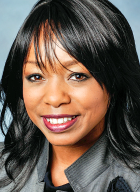 ---
Biography
Lakeesha Ransom is a vice provost and the dean of the Honors College. She brings 20 years of leadership experience in educational, governmental, nonprofit and corporate entities to her role at UA.
Ransom comes from the University of Toledo, where she was the chief academic and administrative officer and founding dean of the Jesup Scott Honors College. She is highly experienced in developing innovative learning initiatives and problem-solving strategies, along with entrepreneurship programs.
At the University of Minnesota in Minneapolis, Ransom earned a Ph.D. in human resource development and strategic management and an M.A. in comparative and international development education, and served on the Board of Regents for six years. She earned a B.A. in international business at Southwest Minnesota State University.
---