Anthony P. Colucci III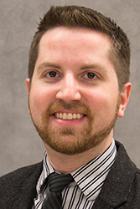 Title: Assistant Director of Admissions
Office: Room 136G
Phone: 330.972.6364
Email: apc6@uakron.edu

---
Biography
As Assistant Director of Admissions, Anthony works closely with the other members of the Admissions team to recruit each year's entering class. His responsibilities include conducting regular building tours for interested students and their families, as well as coordinating Admissions events throughout the year, including open houses, mock LSATs, and other informal events.
As a member of the Diversity Task Force, Anthony worked with other Akron Law faculty and administrators to assess the ways in which Akron Law can recruit and support a more diverse student body. Anthony drafted the section of the report focused on improving recruiting and retention efforts for lesbian, gay, bisexual, and transgender (LGBT) students. He also serves as a co-advisor for the Gay-Straight Law Alliance student organization.
Find me on Facebook, Twitter, and LinkedIn.
---
Education
B.A. in Political Science - American Politics, and minor in music, The University of Akron Magna Cum Laude
---