Dawn M. Johnson, Ph.D.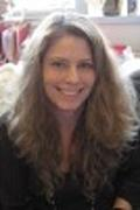 ---
Biography
Dr. Johnson received her Ph.D. in Counseling Psychology from the University of Kentucky in 2001. Afterwards, she completed a 2-year NIMH funded postdoctoral research fellowship focusing on clinical trials for PTSD at the Brown University School of Medicine in 2003. She then served as Clinic Coordinator and core faculty at the Summa-Kent State Center for the Treatment and Study of Traumatic Stress for five years. She joined the department of psychology at the University of Akron in 2008. Her research interests include intimate partner violence, PTSD, trauma and abuse, and treatment outcome research. She currently has funding from NIMH supporting a large scale randomized controlled trial evaluating the treatment she developed(HOPE) for victims of intimate partner violence living in shelters. Additionally, she recently received funding from NINR to develop a rapid HIV testing and counseling program for residents of battered women's shelters.
---
Publications
Perez, S., Johnson, D. M., Wright, C. V. (in press). The attenuating effect of empowerment on IPV-related PTSD symptoms in battered women living in domestic violence shelters. Manuscript submitted to Violence Against Women.
Wright, C. V., Perez, S., Johnson, D. M. (in press). The mediating role of empowerment for African American women experiencing intimate partner violence. Psychological Trauma: Theory, Research, Practice, and Policy.
Wright, C. V., & Johnson, D.M. (2009). Correlates for legal helpseeking: Socio-cultural factors for battered women in shelter. Violence and Victims, 24, 771-785.
Johnson, D. M., & Zlotnick C. (2009). HOPE for battered women with PTSD in domestic violence shelters, Professional Psychology: Research and Practice, 40, 234-241.
Johnson, D. M., Zlotnick, C., & Perez, S. (2008). The relative contribution of abuse severity and PTSD severity on the psychiatric and social morbidity of battered women in shelters. Behavior Therapy, 39, 232-241.
Johnson, D. M., Delahanty, D., & Pinna, K. (2008). The cortisol awakening response as a function of PTSD severity and abuse chronicity in sheltered battered women. Journal of Anxiety Disorders, 22, 793-800.
Perez, S., & Johnson, D. M. (2008). PTSD compromises battered women's future safety. Journal of Interpersonal Violence, 23, 635-651.
---