LEARN LEADERSHIP FROM THE BEST LEADERS!
The Army ROTC program is only as strong as it's instructors. We provide suitable and highly qualified faculty and staff for Cadets in order to meet the program's standards. See the kind of varied and interesting experiences instructors have had that make them the best ROTC faculty and staff.
---
Professor of Military Science / MSIV Instructor
Lieutenant Colonel (LTC) Michael Gonzalez
Lieutenant Colonel Michael Gonzalez was born in Brooklyn, New York. He graduated from the University of Puerto Rico, Mayaguez Campus with a Bachelor of Science (1992) and Master of Science in Administration from Central Michigan University (2003). He received his commission through the Reserve Officers Training Corps as an Engineer Officer in 1992.
LTC Gonzalez's duty assignments include: Platoon Leader, C/ 448th Engineer Battalion, Ponce, Puerto Rico; Executive Officer with the 739th EN CO (Medium Girder Bridge), Granite City Illinois; Plans Officer, 81st Regional Support Command, Birmingham Alabama; Plans Officer, HHC/ 448th EN BN, Fort Buchanan, PR; Readiness Officer, US ARMY RESERVE COMMAND (USARC), Fort McPherson, GA; Mobilization Officer, 3rd Medical Command, Fort Gillen, GA; Engineer Training Officer, US ARMY RESERVE COMMAND (USARC), Fort Bragg, NC; Operations Officer, 1st Mission Support Command, Fort Buchanan, PR. He currently serves as the ROTC Professor of Military Science at the University of Akron.
His military education includes: The DoD Defense Support to Civil Authorities Course (D7A), Additional Skill Identifier (ASI) 6Y (installation Management). Human Resources Management Qualification Course, Engineer Officer Basic and Advanced courses, the Combined Arms & Service Staff School and the Command General Staff Officer Course – WHINSEC (Distinguished Honor Graduate).
His awards and decorations include the Meritorious Service Medal with three Oak Leaf Cluster, the Army Commendation Medal with five Oak Leaf Clusters, Army Achievement Medal, Armed Forces Reserve Medal with M Device, Army Reserve Component Achievement Medal, National Defense Service Medal, Global War on Terrorism Expeditionary Medal, Global War on Terrorism Service Medal, Army Service Ribbon and the Army Reserve Component Overseas Training Ribbon with Bronze Arabic Numeral 3.His overseas assignments tours include: Operation New Horizons – Guatemala (2001), Operation Iraqi Freedom (2004)
---
Assistant Professor Military Science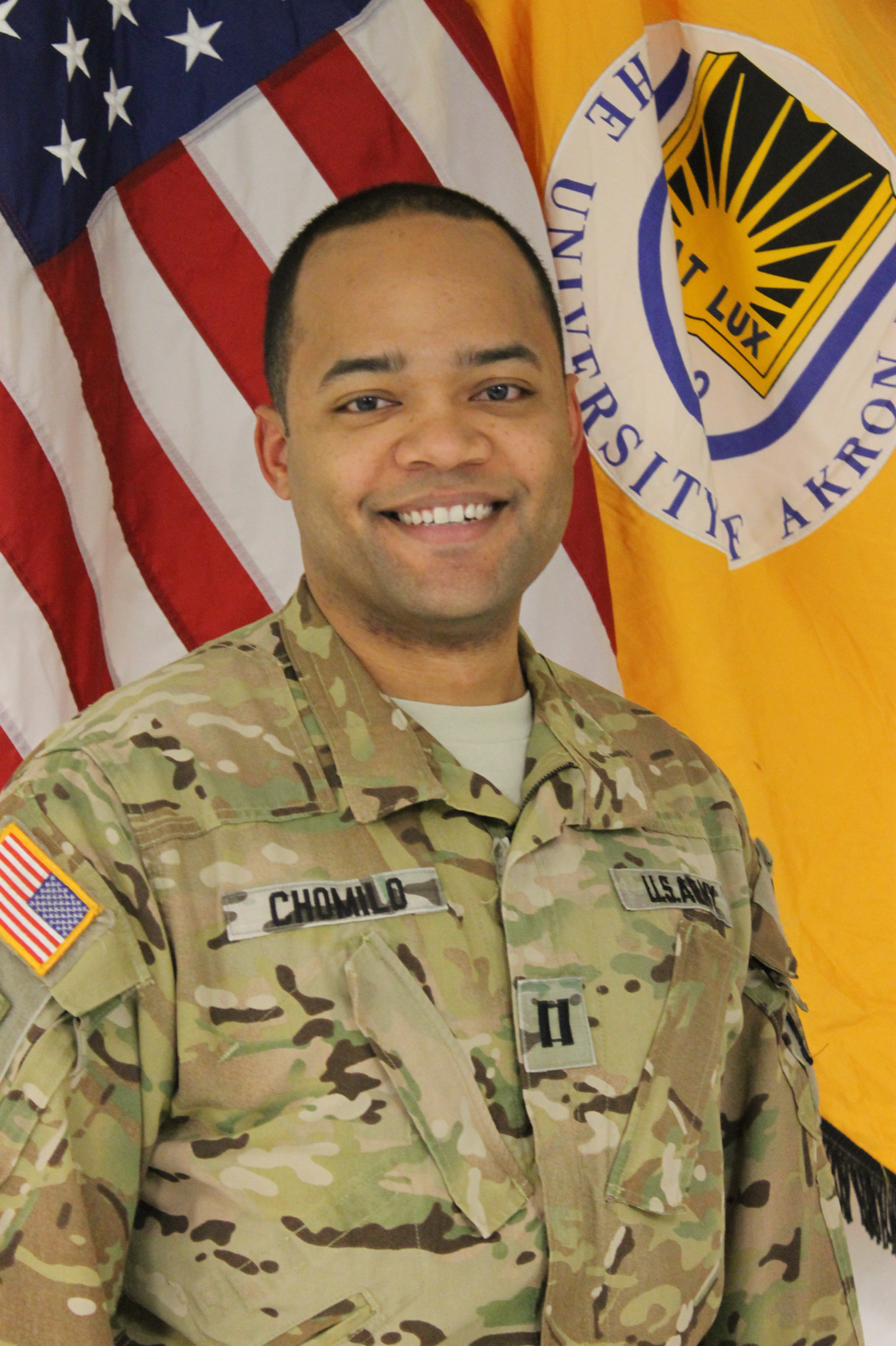 Captain (CPT) Njoya Chomilo
Njoya Chomilo was born in Minneapolis, MN and graduated from Eden Prairie High School in 2003. He earned a Bachelors of Science in Geography with an emphasis on Geographic Information Systems and a minor in Political Science from the University of Wisconsin – La Crosse and was commissioned as a 2LT in the Aviation branch December 2008. He attended the officer basic course II at Ft. Sill, OK and then went onto Fort Rucker, AL to attend initial entry rotary wing training, aviation officer basic course, and the UH-60 A qualification course from April 2009 to September 2010. He left Fort Rucker a fully certified UH-60A/L pilot.

His first duty station was Soto Cano Airbase, Honduras, where he served as the 1-228th AVN HHC XO for 5 months. He then served as a Platoon Leader with A Co, 1-228th AVN. During his time in Honduras he flew over 150 hours in support of counter narcotics missions, medical outreach programs, and various VIP support missions. He departed for Hunter Army Airfield (HAAF), GA in May 2012. During his time at HAAF he served as Assistant S3 and Battle Captain for 4-3 AHB in addition to flying over 100 hours in combat during their Operation Enduring Freedom XIII deployment. He then attended the Aviation Captains Career Course (AVCCC) class 14-03. After leaving the AVCCC in December of 2014 he reported to 2-2 Assault Helicopter Battalion, 2nd Combat Aviation Brigade, 2nd Infantry Division in Seoul, South Korea. He served as Assistant S3 for 5 months and was selected to command the D Co Desperados. He served as the commander of the premier UH-60L unit level aviation maintenance company in the Army for 16 months and relinquished command 04 November 2016.
His awards and decorations include: The Army Aviator Badge, Meritorious Service Medal, Army Commendation medal (1 OLC), Army Achievement Medal (2 OLC), Korean Defense Service Medal, Afghanistan Campaign Ribbon, NATO Medal, National Defense Service Medal, Global War on Terrorism Service Medal, and Overseas Service Ribbon (3).
---
Senior Military Science Instructor
Master Sergeant (MSG) David Dzwik
MSG David Dzwik is a native of Michigan. He entered the Army as an Infantryman in 1995. He received One Station Unit Training at Fort Benning, Georgia.
MSG Dzwik has served in a variety of positions to include: Heavy Weapons Gunner, Radio Telephone Operator, Team Leader, Recruiter, Squad Leader, Platoon Sergeant, Airborne Instructor/Platoon Sergeant, Infantry Company First Sergeant and Senior Military Instructor at University of Akron.
His duty assignments include Fort Campbell, Kentucky with 3rd Brigade, 1st Battalion 187th Infantry Regiment at Fort Bragg, North Carolina with 1st Brigade, 3rd Battalion 504th Parachute Infantry Regiment, Traverse City Recruiting Station, Great Lakes Recruiting Battalion, and the 173rd Airborne Brigade Combat Team in Caserma Ederle (Vicenza), Italy with 2D Battalion (ABN) 503rd Infantry and 1st Battalion (ABN) 503rd Infantry. He also was part of an exchange program and instructed at the Canadian Airborne School at CFB Trenton, Ontario.
His overseas assignments include Operation Noble Eagle, Kosovo from 1999 to 2000, and three combat deployments with the 173rd ABCT in support of Operation Enduring Freedom, VI (Zabol), VIII (Kunar and Nuristan), and XIII (Logar and Warkdak).
His awards and decorations include The Bronze Star Medal for Valor (1 OLC); The Bronze Star Medal (1 OLC), The Meritorious Service Medal (2OLC), The Army Commendation Medal (4 OLC), The Army Achievement Medal (7 OLC), Good Conduct Medal (5th Award), National Defense Service Medal, Kosovo Campaign Medal with Bronze Star, Afghanistan Campaign Ribbon, Global War on Terrorism Expeditionary Medal, Global War on Terrorism Service Medal, Armed Forces Service Medal, Volunteer Award Medal, NCO Professional Development Ribbon (3), Army Service Ribbon, Overseas Service Ribbon (6), Nato Medal (2), Combat Infantryman Badge, Expert Infantry Badge, Master Parachutist Badge and Air Assault Badge.
---
MSII Instructor
Recruiting Operations Officer (ROO)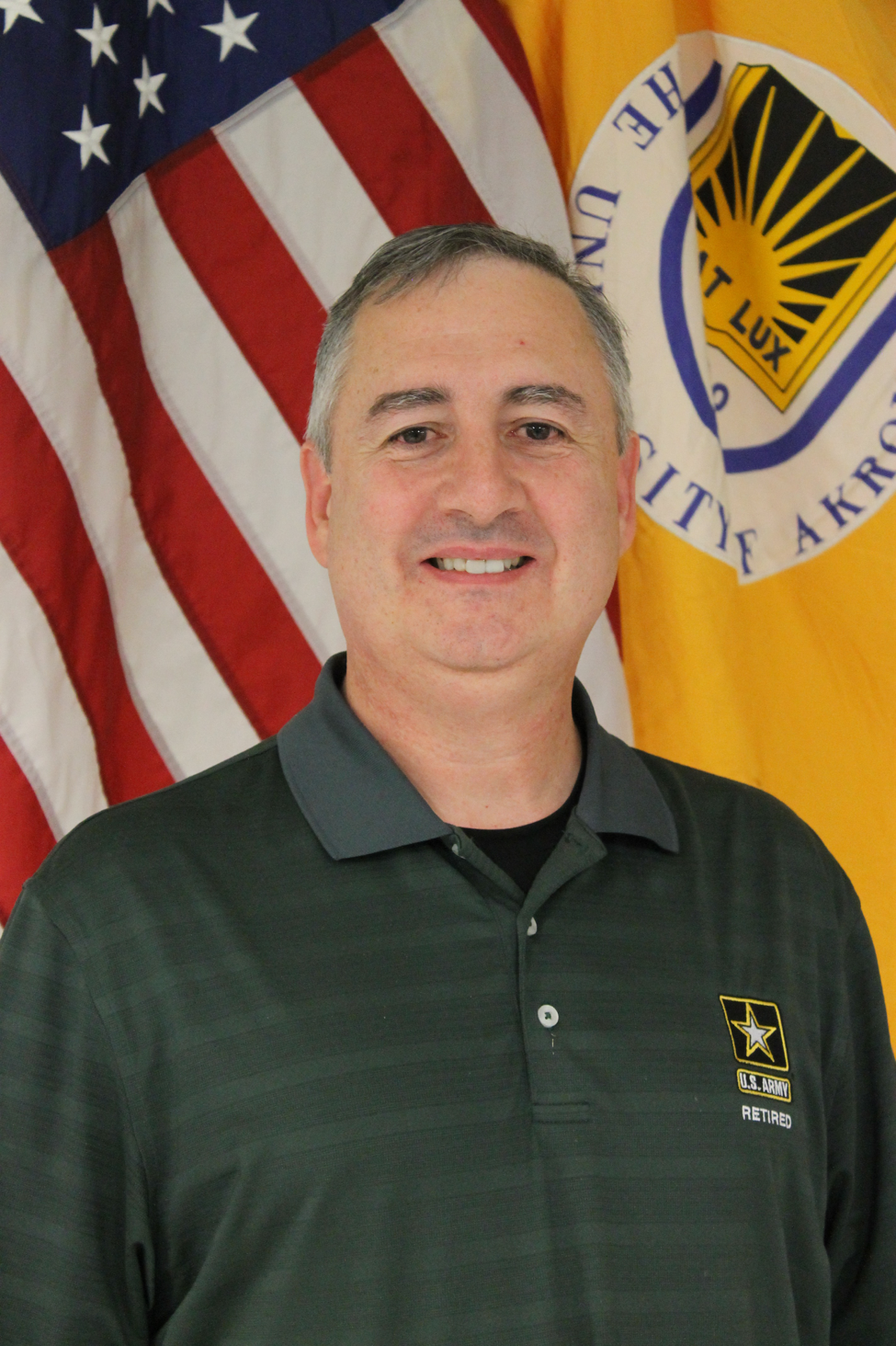 Mr. Terry Michaels
Terry P Michaels, a native of Ohio, graduated with a Bachelor's degree in Accounting from the University of Akron in 1986 and a Masters degree in Administration from Central Michigan University in 2000. He is also a graduate of the US Army's Command and General Staff College at Fort Leavenworth, KS.
Following his commissioning through Army ROTC in 1986, he served in the active duty Army for 24 years and retired as a Lieutenant Colonel in 2010. His service included duty with the 101st Airborne Division in Fort Campbell, KY; the 3rd Infantry Division, and 7th Army in the Federal Republic of Germany and Iraq; the 1st and 24th Infantry Divisions in Fort Riley, Kansas and the 10th Mountain Division in Iraq. Mr. Michaels completed his active service as an instructor at the Command and General Staff College. Following his active service, he began teaching ROTC at the University of Mount Union and Kent State University, before returning to the University of Akron Army ROTC.
Mr. Michaels' military education includes the Field Artillery Officers Basic and Advanced Courses, Combined Arms Service and Staff School, Command and General Staff College, and the Army's Professional Resource Management Course at Syracuse University. Mr. Michaels' awards and decorations include; the Legion of Merit, Bronze Star Medal, Meritorious Service Medal with 2OLC, Army Commendation Medal with 3OLC, Army Achievement Medal with 3OLC, Iraqi Campaign Medal, National Defense Service Medal with bronze star device, Global War on Terrorism Service Medal, Combat Action Badge, Parachutist Badge, and Air Assault Badge.