LEARN LEADERSHIP FROM THE BEST LEADERS!
The Army ROTC program is only as strong as it's instructors. We provide suitable and highly qualified faculty and staff for Cadets in order to meet the program's standards. See the kind of varied and interesting experiences instructors have had that make them the best ROTC faculty and staff.
---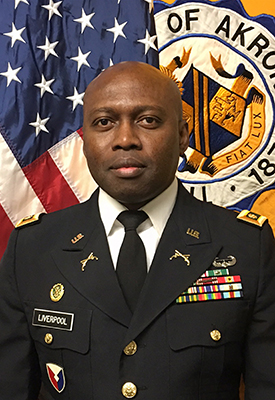 Professor of Military Science / MSIV Instructor
Trevor S. Liverpool, Major, U. S. Army Reserve
MAJ Trevor Liverpool is a native of (British) Guyana, and hails from Clever, Missouri. He served as an enlisted Combat Medical Specialist before being selected for attendance at the Army Reserve Officers' Training Corps (ROTC) at Northwestern State University of LA. He graduated in 2000 as a Distinguished Military Graduate (DMG), with a BS in Advertising Design and commissioned a Second Lieutenant of Military Police. He holds a Master of Science in Administration degree from Central Michigan University.
MAJ Liverpool's key assignments include: Platoon Leader, 58th Military Police (MP) Company, Schofield Barracks, HI; Platoon Leader, 25th MP Company, Schofield Barracks, HI; Force Protection Officer, 45th Corps Support Group (F), Schofield Barracks, HI; Company Commander, B Co, 701st MP BN, Fort Leonard Wood, MO; Brigade Operations Officer, 10th ROTC Brigade, Fort Leonard Wood, MO, Operations Officer, Army Field Support Battalion, Kuwait, Contracting Officer's Representative, Army Field Support Battalion, Kuwait, Assistant Professor of Military Science and Executive Officer, The University of Arizona, Army ROTC and BDE Plans and Operations Officer, 300th MP BDE, USAR. He is a graduate of the MP Officer Basic Course, MP Captains Career Course, Combined Arms and Services Staff School (CAS3), USAR Logistics Course, the US Army Command and General Staff Officers' Course, Fort Leavenworth, KS and the US Army Air Assault Course.
MAJ Liverpool's awards and decorations include: the Meritorious Service Medal, Army Commendation Medal (w/ 6OLC), Army Achievement Medal (w/ 3OLC), National Defense Service Medal (w/ 2BSS), Southwest Asia Service Medal (w/ 1BSS), Global War on Terrorism Service Medal, and the Army Good Conduct Medal.
MAJ Liverpool is married to the former Darla Maples who together parent two children, Jada (13) and Gideon (11).
---
MSII Instructor
Recruiting Operations Officer (ROO)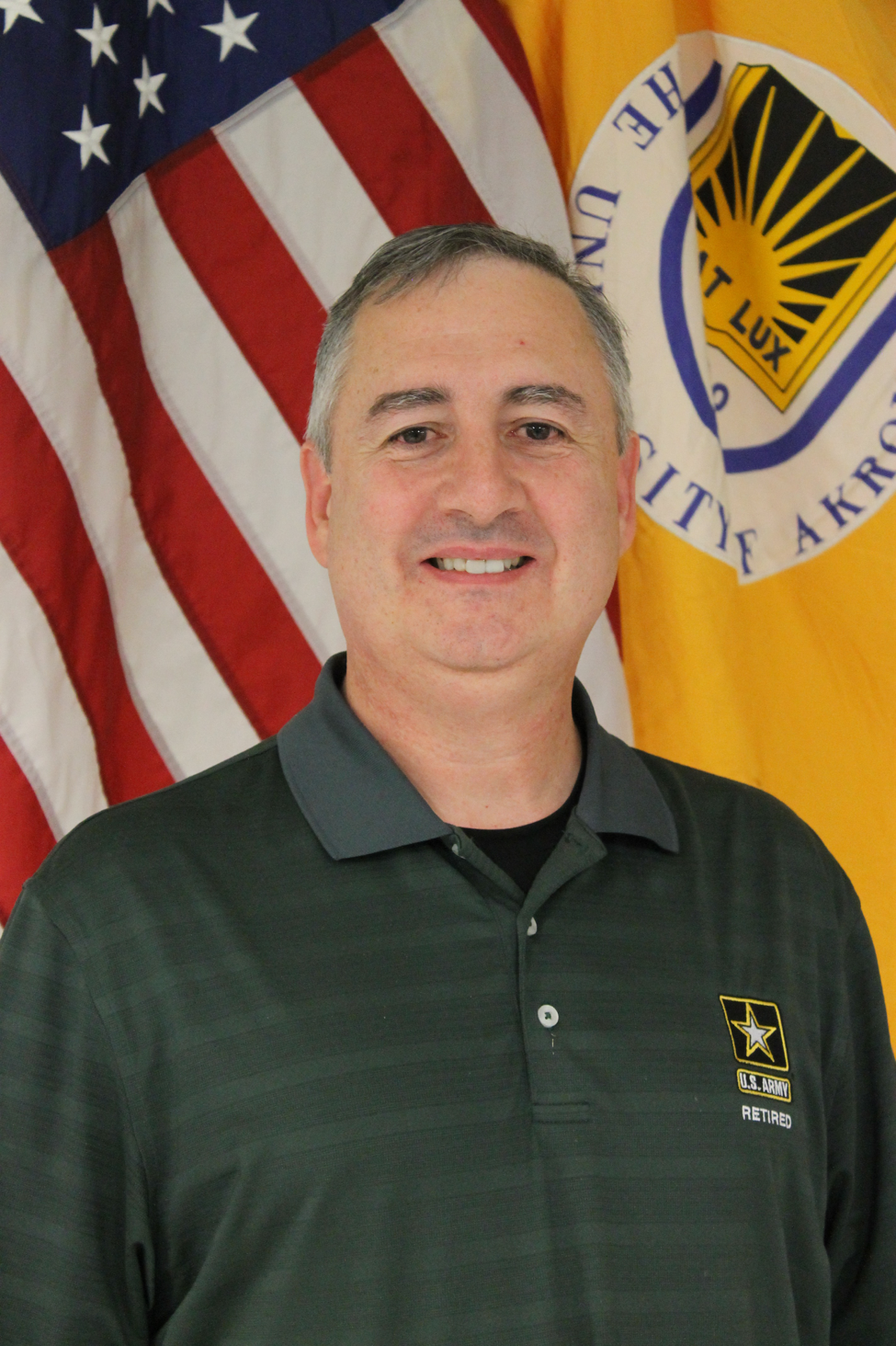 Mr. Terry Michaels
Terry P Michaels, a native of Ohio, graduated with a Bachelor's degree in Accounting from the University of Akron in 1986 and a Masters degree in Administration from Central Michigan University in 2000. He is also a graduate of the US Army's Command and General Staff College at Fort Leavenworth, KS.
Following his commissioning through Army ROTC in 1986, he served in the active duty Army for 24 years and retired as a Lieutenant Colonel in 2010. His service included duty with the 101st Airborne Division in Fort Campbell, KY; the 3rd Infantry Division, and 7th Army in the Federal Republic of Germany and Iraq; the 1st and 24th Infantry Divisions in Fort Riley, Kansas and the 10th Mountain Division in Iraq. Mr. Michaels completed his active service as an instructor at the Command and General Staff College. Following his active service, he began teaching ROTC at the University of Mount Union and Kent State University, before returning to the University of Akron Army ROTC.
Mr. Michaels' military education includes the Field Artillery Officers Basic and Advanced Courses, Combined Arms Service and Staff School, Command and General Staff College, and the Army's Professional Resource Management Course at Syracuse University. Mr. Michaels' awards and decorations include; the Legion of Merit, Bronze Star Medal, Meritorious Service Medal with 2OLC, Army Commendation Medal with 3OLC, Army Achievement Medal with 3OLC, Iraqi Campaign Medal, National Defense Service Medal with bronze star device, Global War on Terrorism Service Medal, Combat Action Badge, Parachutist Badge, and Air Assault Badge.


Program Coordinator
Mr. Les Stroud Jr
Les Stroud Jr. is a native of Hannibal, Missouri. He joined the USAF as a Security Policeman on 16 July 1987 at the age of 18. While in the USAF he served as a Security Specialist for Air Base Ground Defense Squadron at Nellis AFB, NV from 1987-1990. Also while stationed at Nellis he was deployed TDY as a SP in support of Operation Just Cause. While deployed in Panama he secured Ft. Clayton and Howard AFB, and assisted in the capture of Manuel Noriega and his associates. Prior to leaving the USAF active component he was deployed as a SP in support of Turkish Air Bases (Izmir and Balikesir AB) during Desert Storm/Shield from Sep 1990-Oct 1991. While at Balikesir he secured a large Turkish AFB from Iraqi resistance and possible terrorists, and assisted the Turkish Military in its efforts to keep Iraqi citizens safe and keeping unknown terrorists from coming in and out of Iraq.
From 1992-2000 he served in the United States Army National Guard as an Enlisted Military Policeman reaching the rank of SSG. While attending Kent St University he joined and completed the ROTC program; graduating top third in his class and was commissioned as a 2LT in the Army National Guard May 2002.
Upon MPOBC graduation Les was deployed to OIF 1 and 2 for 18 months as a Military Police Platoon Leader. While deployed he served as Army Customs OIC throughout Kuwait Zone of Operations; Balad, Iraq, Al Asad, Iraq & Baghdad, Iraq from Apr 2003-Apr 2004. He safely redeployed 80,000 soldiers from Theatre of Operations and was OIC for largest redeployment hub in the OIF Theatre at Camp Anaconda, Balad, Iraq. Then upon deployment extension he was Army Convoy Security OIC throughout all Iraq Zone Theatre of Operations from Apr-Sep 2004. During this period he completed 14 dangerous, but successful convoy supply missions, as primary OIC with no fatalities and ensured 100% security of personnel and delivery of supplies throughout Iraqi Theatre of Operations.
Upon return from OIF he served on active duty in the Ohio National Guard as the Ohio Military Funeral Honors Coordinator. Les has 30 years as an officer & enlisted soldier with 12 years being on active duty. Les is presently a Major in the Ohio National Guard and works in the J3 section at Joint Force Headquarters.
US Decorations/Badges: US Army Combat Action Badge, US Army Commendation Medal (2 Awards), US Army Meritorious Service Medal, Good Conduct Medal, US Army Reserve Component Achievement Medal (1SOLC), SW Asia Service Medal with 3 BSS, National Defense Service Medal (2 Awards), Iraq Campaign Medal, GWOT Service Medal, Humanitarian Service Medal, US Armed Forces Reserve Medal (M Device), US Army NCO Professional Development Ribbon, USAF Longevity Award, USAF Training Ribbon, USAF Good Conduct Medal, USAF Meritorious Unit Award, USAF NCO PME Ribbon, USAF Overseas Service Ribbon, US Army Service Ribbon, US Army Reserve Component Overseas Training Ribbon, Armed Forces Reserve Medal, GAFP Badge.
Les has been happily married to his wife Diane for 21 years. Together they have 4 children Makaila (21-UA Graphic Design Major), Kali (19-UA Education Major), Nate (16), & Ryan (14).