Interaction 2017: Direct Marketing to a Global Audience
Friday, May 19, 2017 | 11:30 – 4:30 PM
Registration and Networking 11:30 | Lunch will be served at 12:30 | Reception begins at 4:30
On Friday, May 19th, the University of Akron's Gary L. and Karen S. Taylor Institute for Direct Marketing will be hosting its annual thought leadership event, Interaction. Interaction 2017 will feature the theme of Direct Marketing to a Global Audience. With current technology, including the well-documented prevalence of mobile devices, the world is becoming smaller. It is not uncommon for consumers to carry on conversations with companies on the other side of the world. As stated in a Direct Marketing News article nearly six years ago, "technology has paved the way for the emergence of global consumers, and marketers are becoming more intuitive, more inventive and more aggressive about using an arsenal of global marketing strategies to acquire international customers." Well, that time has come. It is no longer a case of "are becoming," it has migrated to "should be" when discussing the strategy to move across a global marketing landscape. Marketing on a global level requires marketers to adjust strategies to adapt to these new markets. It is not enough to merely translate a marketing piece into the language of that country. Successful global marketers have an ear to the ground to uncover the unique habits of global consumers, rely on local partners for cultural distinctions, and understand how the complex shifts in a global economy can affect their business. If you are ready to move beyond "are becoming" to just "are" when talking about direct marketing to a global audience, Interaction 2017 is for you. Our speakers will share their experience and research to help and motivate you with this important jump.
In addition to hearing from our amazing speakers, the Taylor Institute will also be honoring Ms. Karen Haefling with the 2016 Direct Marketer of the Year Award.
Keynote Speakers: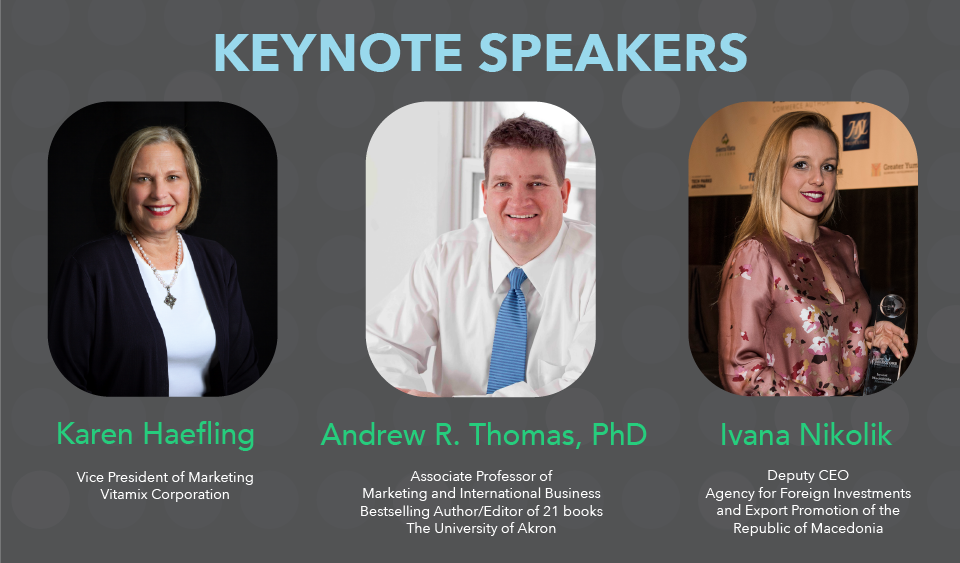 &nbsp
Interaction 2016 Event Coverage
Event Details
Interaction 2017 will take place on Friday, May 19, 2017. Registration check-in and networking will begin at 11:30. Lunch will be served at 12:30. Immediately following the event, you will have your chance to meet with other attendees and our keynote speakers at our event reception, starting at 4:30. Parking passes will be sent via email prior to the event. The Taylor Institute is located on the 5th Floor of the Polsky Building on the campus of the University of Akron.
Address:
225 South Main Street.
Akron, OH 44325
Registration Information
Corporate Table Sponsorships are $1000.00. Table sponsorships will include 8 tickets to Interaction. The sponsorship will also include your company logo featured on event marketing material, at your table, and your organization will be recognized at Interaction and in social media as a corporate table sponsor. The first two companies to purchase a table sponsorship will be able to provide a 5-minute overview of their company in front of the attendees.
Individual Seats are $100.
Register now
About the Taylor Institute and the University of Akron College of Business Administration
The Gary L. and Karen S. Taylor Institute's mission is to inspire and develop future business leaders in the areas of Direct and Interactive Marketing. Taylor Institute programs and initiatives are designed to be integrated with the College of Business Administration Marketing curriculum. This integration helps provide experiential learning opportunities to supplement the theoretical, classroom knowledge gained by students, which truly makes the Taylor Institute a location "where theory meets practice." The Taylor Institute for Direct Marketing at The University of Akron was founded in 2004 by Gary and Karen Taylor, Founders of InfoCision Management Corporation. For more information, please visit The Taylor Institute.
The College of Business Administration is one of a select few academic institutions to hold dual international accreditation from the Association to Advance Collegiate Schools of Business, the mark of excellence in education for business schools worldwide. The graduate program in business currently has 20 Fulbright students and 10 U.S. Agency for International Development students from 15 different countries. Individual students and student teams annually place at the top in national student competitions in accounting, management, finance and marketing. The business college continues a five-year trend of steady enrollment growth at both the graduate and undergraduate levels as of Fall 2015, up 6% over a five-year period.