The College of Business Administration (CBA) helps students get ready to make a difference through rigorous coursework and developmental opportunities that range from classroom consulting projects, internships, and professional networking, to leadership and business communication training.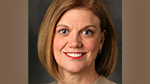 Retired Federal Reserve Head Joins CBA as FirstMerit Chair in Banking
Recently retired head of the Federal Reserve Bank of Cleveland, Sandy Pianalto, is joining the CBA as the FirstMerit Chair in Banking. She will work with students and faculty on banking and finance-related topics.
Read more about this story.

Andrew Thomas Sharing Airline Security Expertise on Fox Today, Monday, July 28, and on Canadian TV
Andrew Thomas, associate professor of marketing and international business in the College of Business Administration, will appear on "Fox News with Gretchen Carlson" today at 2 p.m. EST to discuss a Congressional proposal to outfit U.S. airliners with anti-missile defense systems. Dr. Thomas also was recently
interviewed on Canadian television
on an alleged threat made by a Canadian man to blow up the airplane on which he was a passenger.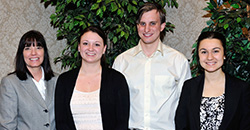 CBA Financial Planning Team Scores a Win
Suzanne Gradisher
, assistant professor of business law in the CBA, is faculty advisor to a team of three students --
Jessica Rorar
,
Thomas Minnick
and
Danielle Molyet
(all pictured left to right)
-- who comprise the first CBA team to make it beyond the first round of the Financial Planning Challenge Team competition. Fall semester will be barely under way when the three members head to Seattle to test their skills against seven other college teams in a national competition at the annual conference of the Financial Planning Association.
Read more about the team and upcoming next round of the competition
.

Congratulations Dr. Li Wang and Accounting Information Systems Faculty on Publication Recognition
In an article published in the Spring 2014
Journal of Information Systems
that ranks published articles, authors, and schools for their contributions to Accounting Information Systems (AIS) research,
Dr. Li Wang
, Associate Professor, George W. Daverio School of Accountancy, ranks number 25 based on number of citations. The
Accounting Information Systems faculty
at the College of Business Administration is also highly ranked -- number 10 based on citations per year. The article uses citations to help determine the most influential accounting systems articles.
More.

Marketing Research Students Learn about Neuroscience Tools
In
Dr. Terry Daugherty's
summer Marketing Research course (MKT 355), students are learning about experimental design and the application of consumer neuroscience measurement tools, such as Dense-Array Electroencephalography (dEEG). Senior marketing management major
Tyler Pennington
(
pictured
) demonstrates the dEEG technology with an experiment to help students better understand how advertising and other media content is tested at the
Suarez Applied Marketing Research Labs
.

Alumnus Recognized as Innovator in Collegiate Dining Services
CBA Alumnus (BS and MBA) Zia Ahmed, Senior Director of Dining Services at The Ohio State University, is recognized by
Food Management
magazine as the College Innovator of the Year.
Read the full article
.