Alicja Marlowe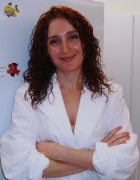 ---
Biography
I graduated with the degree of Master of Sciences in Biotechnology at the University of Life Sciences in Lublin, Poland.
I was also an Erasmus exchange student at Ghent University in Belgium for two years. During that period, I gained plenty of practical experience in several laboratories. First, I joined the Molecular Immunology Laboratory in the research center VIB (Flanders Interuniversity Institute of Biotechnology). I characterized a newly described type of macrophages in lungs of mice with asthma. During the second year, I conducted a project in the same research center in Molecular Virology Laboratory. The main focus was cloning the recombinant neuraminidase 1 from influenza subtype H5N1 with a human tetramerization domain.
During the summer, I worked in a Neurobiology Laboratory and I learned more about the electrical potentials in the brain.
The research toward my master's thesis took place in Laboratory of Evolutionary Morphology and had a focus on 3D brain models of a mouse, Zebrafish and Xenopus embryos using micro-CT-scanning. The most recent research job I have had was at the Polish Academy of Sciences, where I videotaped the rescue behavior of ants.
---
Research Accomplishments
My current work toward ascertaining a PhD at The University of Akron in the IB program is supervised by Prof. Qin Liu. We want to know more about the expression and function of adhesion molecule cadherin in the regenerating retina of the embryonic Zebrafish.
Education
2010: M.S. Biotechnology. The University of Life Sciences in Lublin, Lublin, Poland. 2008-2010: Erasmus exchange student, Biology and Biotechnology. Ghent University, Belgium.
---