Dr. Anne Wiley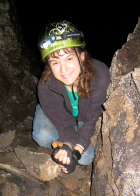 Title: Assistant Professor of Biology
Dept/Program: Biology
Office: ASEC W175
Phone: 330-972-6489
Fax: 330-972-8445
Email: awiley@uakron.edu

---
Biography
B.S., University of Michigan (2006)
Ph.D., Michigan State University (2011)
---
Research Accomplishments
I use stable isotopes and other molecular tools to study the ecology of modern and ancient animal populations. I am broadly interested in population ecology and human-mediated changes in animal diet and distribution. Much of my research focuses on oceanic seabirds, which regularly traverse thousands of kilometers as they forage on a diversity of marine fish and invertebrates. Oceanic seabirds can provide a unique perspective on food webs over the vast spatial scales at which they forage. They also provide a means of investigating interesting topics such as the relationship between genetic and foraging diversity in species that have few physical barriers to dispersal. My research has addressed topics such as individual specialization, population-level foraging segregation, and fishery-induced changes to marine food webs. I am also interested in the subjects of ecologically-mediated population divergence, salt loading in marine vertebrates, and radiocarbon dating.
Publications
Wiley A, Ostrom P, Welch A, Fleischer R, Gandhi H, Southon J, Stafford T, Penniman J, Hu D, Duvall F, James H (2013) Millennial-scale isotope records from a wide-ranging predator show evidence of recent human impact to oceanic food webs. Proceedings of the National Academy of Sciences of the United States of America 110: 8972-9877.
Wiley A, Welch A, Ostrom P, James H, Stricker C, Fleischer R, Gandhi H, Adams J, Ainley D, Duvall F, Holmes N, Hu D, Judge S, Penniman J, Swindle K (2012) Foraging segregation and genetic divergence between geographically proximate colonies of a highly mobile seabird. Oecologia 168: 119-130.
Welch A, Wiley A, James H, Ostrom P, Stafford T, Jr., Southon J, Fleischer R (2012) Ancient DNA reveals genetic stability despite demographic decline: three thousand years of population genetic history in the endemic Hawaiian petrel (Pterodroma sandwichensis). Molecular Biology and Evolution 29(12): 3729-3740.
Welch A, Fleischer R, James H, Wiley A, Ostrom P, Adams J, Duvall F, Holmes N, Hu D, Penniman J, Swindle K (2012) Population divergence and gene flow in an endangered and highly mobile seabird. Heredity109:19-28.
Wiley A, Ostrom P, Stricker C, James H, Gandhi H (2010) Isotopic characterization of flight feathers in two pelagic seabirds: Sampling strategies for ecological studies. The Condor 112: 337-346.
---