Michele Denise Mills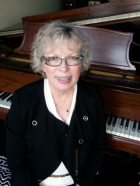 Title: Keyboard Harmony
Dept/Program: Music

---
Biography
Dr. Mills joined the faculty of the University of Akron's School of Music in 1988, teaching a variety of graduate and undergraduate courses in the years that followed. In 1996 she assumed the role of both academic advisor and Honors College preceptor for the unit on a part-time basis. These duties evolved into the full-time position of Coordinator of Student Services for the University of Akron School of Music, in 2005. Dr. Mills continued teaching in this position, and also served as Graduate Coordinator for the school from 2008-2010.
During her tenure advising School of Music honors students, Dr. Mills was dedicated to helping students to produce senior projects of high quality, signing off on more than 100 senior projects. Dr. Mills was recognized with an Outstanding Honors College Advising Award in Spring of 2011, and was the featured advisor in an article in the Winter 2012-2014 Honors College Newsletter.
Dr. Mills was appointed panel lead of the Ohio Board of Regents subcommittee to develop the state's music Transfer Assurance Guide (TAG) 2002-2011. Now a panel member, she continues to be active in the state-wide effort to insure smooth transfers between state-supported universities offering music degrees throughout Ohio.
After retiring from full-time responsibilities in spring of 2011 and being given the title of Coordinator Emeritus of Student Services, Dr. Mills returned to teach in Fall of 2011 and continues serving the School of Music on a part-time basis in the classroom, sponsoring the occasional senior honors project and still assisting with undergraduate independent studies and graduate student thesis requirements.
A graduate of Kent State University, B.M. Piano Performance, Dr. Mills pursued graduate studies at The University of Akron, M.M. Music Theory, returning to Kent State University to earn a Ph.D. in Music Theory and Composition. Dr. Mill's research during her doctoral studies earned an Outstanding Dissertation Award in spring of 1997, and also resulted in a publication in the Journal of the American Liszt Society. Throughout her graduate studies in music theory and composition, Dr. Mills continued her piano studies, performed several different solo piano recital programs, presented lecture-recitals based on her dissertation work at The University of Akron as well as other NE Ohio locations, and frequently enjoyed participating in the performance of new music compositions.
Spanning her entire career is the activity she most enjoys: collaborations with dancers. These include her association with the Ohio Ballet as piano duo partner of David Fisher with performances in Akron, New York City, Jacob's Pillow Festival, and Spoleto Festival USA. She has had several collaborations as a pianist with The University of Akron Dance Company, playing several Leonard Bernstein Anniversaries for "Solos", choreographed by Marc Ozanich in 2002, selected Chopin Mazurkas for Eric Yetter's ballet "Piano Pieces" in 2010, and movements from a sonata for violin and piano of J. S. Bach for "Centerpiece", choreographed by Cydney Spohn in 2011. Spring 2014, Dr. Mills again collaborates for Ms. Spohn's most recent ballet, "Le Songe" ("The Day Dream"), playing the six Consolations by Franz Liszt.
When Dr. Mills is not teaching or practicing, she enjoys her two passions: riding her quarter horse gelding, Slider, and road trips across North America or travel abroad with her husband, Dr. John Mills.
---