Douglas Hicks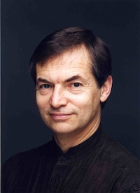 Title: Associate Professor
Dept/Program: Music
Phone: 330/972-6356
Email: vhicks@uakron.edu

---
Biography
Douglas Hicks is an Associate Professor of Music at The University of Akron and director of Music Technology. Doug received his BM in piano performance at the University of Akron studying piano with Eugene Mancini and a MM in piano performance at the University of Miami, FL studying with Ivan Davis. He has played concerts and accompanied throughout the country and continues to be active as an accompanist and solo performer.
In 1980, while returning from a piano recital he saw an advertisement for an Artari computer. This picture of the computer screen contained an eighth note. This led to personal research into computers for the development of musical training software for his piano students. This software was noticed by the Wenger Corporation which then published his software marketed under the name "The University of Akron Series" and later "The Music Class." This software was sold worldwide and presented in over one hundred conferences and seminars throughout the nation through Wenger (later Coda Music), Apple Computer and many schools and Universities throughout the nation. He has been a regular instructor at institutions such as VanderCook College of Music, Villanova, and The University of Iowa.
Mr. Hicks began the Music Computer Center at the University of Akron and later the graduate option in Music Technology. Mr. Hicks was on the founding board of TI:ME. This organization has set national standards for Music Technology used with MENC. As a computer programmer, Mr. Hicks maintains developer status with 4D Inc. and Apple Computer. Mr. Hicks works to stay active and current in his field by attending 4D Summit and for the past ten years has attended WWDC, Apple Computer's World Wide Developers Conference in San Fransicso, CA. and many classes in Chicago Illinois and Columbus Ohio.
Mr. Hicks continues to teach music technology to students at the University of Akron and other institutions throughout the nation as a guest clinician. Recent research into JavaScrips and CSS has led to the abandonment of Flash and has been incorporated into The University of Akron, School of Music web site. www/uakron.edu/music
---