Kristina Belisle Jones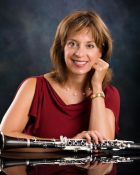 Title: Professor
Dept/Program: Music - Clarinet
Phone: 330/972-8404
Email: kbelisl@uakron.edu

---
Biography
Kristina Belisle Jones is Professor of Music (Clarinet) at The University of Akron, clarinetist of the Solaris Wind Quintet, Principal Clarinetist of the Akron Symphony Orchestra, the Blossom Festival Orchestra, the Blossom Festival Band, and has frequently freelanced with The Cleveland Orchestra. An active soloist, Jones has performed concertos with the Houston Symphony, the Flint Symphony, the Cleveland Chamber Symphony, the Akron Symphony Orchestra, the Akron Youth Symphony, the Conway Symphony Orchestra and university orchestras/wind ensembles throughout Arkansas and NorthEast Ohio. She has won numerous awards including the William C. Byrd National Young Artist Award for Winds and Brass and the Ima Hogg National Young Artist Award. As a chamber musician, she has performed with the Renaud Chamber Music Series, the Chamber Music Society of Ohio, the Fontana Festival of Music and Art, the Norfolk, Bowdoin, and Garth Newel Chamber Music Festivals. As a founding member of Southspoon Winds, a woodwind quintet based in New York City, she received top prizes in the Fischoff and Yellow Springs Competitions and Honorable Mention in the prestigious Concert Artist Guild Competition.

Internationally, Kristina Belisle Jones has performed recitals in Japan, Italy, and China and given masterclasses in China and Taiwan. For four years, she served as Secretary of the International Clarinet Association, performing yearly at the organization's International ClarinetFests. National symposium appearances include recitals at the National Association of College Wind and Percussion Instructors National Symposium (NACWPI), the Oklahoma Clarinet Symposium, and regional clarinet conferences in Alabama, Arkansas, Kentucky, Michigan, Mississippi, Montana, North Dakota and Ohio. The NACWPI Journal wrote of her conference performance: "Belisle's playing indicates that she may be one of the most gifted clarinetists teaching at the college level." The Clarinet hailed Belisle's Oklahoma performance as "superb".

Jones holds Doctor of Musical Arts and Master of Music degrees from Michigan State University where she studied with Elsa Ludewig-Verdehr. Her undergraduate work was completed at The University of Georgia where she was a student of Theodore Jahn. She can be heard in CD with Solaris in "American Quintets II", released by Capstone Records and a soon-to-be completed CD of quintets by Alec Wilder, released by Crystal Records.
---