Stephen Aron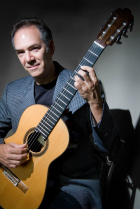 Title: Professor
Dept/Program: Music
Phone: 330/972-6188
Email: saron@uakron.edu

---
Biography
Described by the New York Times as "cultivated and musical," Stephen Aron has established himself at the center of the American classical guitar scene. His first solo CD, Sketches, features the first recordings of works by Ned Rorem and David Bernstein. Of this recording, the Cleveland Plain Dealer said it features "interpretations that sing with vibrant rhythm, subtle color and a feeling of intimacy." Mr. Aron's recording of the complete 51 Chopin Mazurkas on solo guitar (Mel Bay) was a critical success: "He has produced what must certainly be regarded as the most important contribution to the repertoire (by arrangement) in recent years...breathtaking" (Guitar Review). The set was recently re-issued in a one-disc version "My Favorite Mazurkas" by Clear Note Publications. His latest recording, of the Lieder ohne Vorte of Mendelssohn and the complete Kinderszenen, Op. 15 of Schumann, Romantic Guitar, was released this season by Clear Note. A book of thirty of the Mendelssohn works accompanied the CD release.
An avid arranger, his work is published by Tuscany Editions ("wonderful guitaristic arrangement," American Music Teacher), Mel Bay Publications ("historic," Guitart), and Clear Note Publications. His edition and recording of the Complete Guitar Works of Burle Marx was released in 2007 by Clear Note ("Fascinating...This is a book to be ignored at your peril. If this music...is not played by lots of performers in the next few years, then there is simply no justice in the world of music," Classical Guitar). Stephen Aron's recordings have been described as "stunning" (Guitar Review), "inspired" (Classical Guitar) and "exemplary" (Soundboard). A vigorous chamber music advocate, he performs regularly with JoNell Aron, a soprano with whom he has recorded two CD's, one of original arrangements of vaudeville songs called Shine On Harvest Moon, and one of original arrangements of sacred songs entitled In My Heart. Of Shine On Harvest Moon, Fanfare magazine said it was "warmly recommended," while The Rag Times declared it was "exceptional and appealing; get this CD." Of In My Heart, Soundboard stated "there are many reasons to like this superbly produced CD...it is one of the best discs to cross my desk." He is a regular guest with the Gabrieli Ensemble (strings) and his quartet, Poco Tango, (flute, guitar, bass and percussion) performes regularly in the region. Mr. Aron has also published a collection of vaudeville song arrangements, "On a Sunday Afternoon" (Tuscany), a collection of arias arranged for voice and guitar from Handel's Messiah, and an original composition for solo guitar, Rockport Stomp (both with Clear Note). Classical Guitar described Rockport Stomp as "imaginative, adventurous, effortlessly entertaining and a great deal of fun to play."
Stephen Aron has adjudicated and produced numerous national and international competitions. He has given lectures, performed and taught masterclasses at six GFA Conventions, the Boston Conservatory Guitar Festivals, the Stetson International Guitar Festivals, the Portland Guitar Festivals, the Great Lakes Festivals, the Weathersfield Chamber Music Festival, the Rantucci Guitar Festivals, the Appalachian Guitar Festivals, The Eastman Guitar Festivals, The Ithaca College Winter Guitar Festival, the Yale University Guitar Extravaganza, the Piccolo Spoleto Festival, the East Carolina University Guitar Festival, the Alexandria Guitar Festival, the Rosario Guitar Festivals, the Eastern Tennessee Guitar Festival, the ASTA, the MANC, and the National Summer Guitar Workshops. He has performed and taught at such schools as Manhattan School of Music, Cleveland Institute of Music, Yale University, University of Southern California, Tulane University, Magill University, MIT, Cal State Fullerton, Miami International University, the San Francisco Conservatory of Music, and the Mannes College of Music. The Chairman of the Board of Directors of the GFA from 1991-93, Aron hosted and directed the GFA International Festival in 1988 in Akron, and was again the host and artistic director of the GFA International Convention in 2005, in Oberlin. Aron is a graduate of the Hartt College of Music and the University of Arizona.
In addition to his post as Professor of Music and Chairman of Guitar Studies at the University of Akron (since 1981), Stephen Aron is Teacher of Classical Guitar and founder of the classical guitar studies program at the Oberlin Conservatory of Music (since 1992).
---