Richard Glotzer, Ph.D.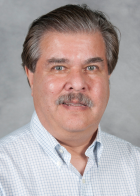 Title: Interim Director, School of Nutrition & Dietetics |Professor, School of Social Work
Office: 411L, Polsky Bldg.
Phone: 330-972-7879 | 330-972-6043
Email: glotzer@uakron.edu
Curriculum Vitae: Download in PDF format

---
Biography
Dr. Richard Glotzer's teaching and research concern the relationship between individuals, groups, and the formal and informal institutions through they navigate. The social costs and benefits of international philanthropy in historical perspective are also an on-going interest. The institutionalization of inequality as a normative aspect of society is another interest. Dr. Glotzer has done archival research and made presentations in Canada, England, and South Africa, in addition to the United States.
PROFESSIONAL INTERESTS

History of philanthropy and social welfare
Comparative studies of race and ethnicity
Comparative studies in Colonialism
RECENT ACTIVITIES
Grant Reviewer, National Institute of Food and Agriculture (USDA), Washington, D.C. 2015.
Exam Writing Team, Certified Family Life Educator (CFLE) exam, National Council on Family Relations, Tampa, FL 2015
RECENT PRESENTATION

Carnegie Corporation Area Experts and Child Rearing: The Lorams and the Clarkes. Organization of Educational Historians, Chicago, Il, October 4-5, 2013; Workshop on Colonial Education in Africa, University of Cape Town, South Africa, July 2012.
---
Publications
Charles Templeman Loram: A Life in Native Education in South Africa and the United States, In Colonial Education, Eckert Fuchs and Peter Kallaway (eds.) London: Palgrave McMillan (forthcoming, 2016).
Relationships in Time, In Family Life Education: The Practice of Family Science (3rd Ed.), Michael J. Walcheski and Jennifer Rienke (eds.). National Council on Family Relations, Minneapolis, MN. (forthcoming, 2015).
Zhao, B., Wang, S., Glotzer, R., & Rob, J. A. (2013). China and U.S. Teenager Tobacco Consumption and Quality of Life, International Journal of Home Economics, (6)2.
Glotzer, R. (2013). Archival Theory and the Shaping of Educational History: utilizing new sources and reinterpreting traditional ones, American Educational History Journal, 40(2), 297-316.
---
Education
Ph.D. in Continuing Education, University of Wisconsin-Madison
M.S. in Child and Family Studies, University of Wisconsin-Madison
B.A. in Psychology, University of Wisconsin-Madison
---
Courses
Introduction to Social Welfare
Human Behavior in the Social Environment I (Micro) & II (Macro)
Diversity and Social Work
Human Behavior in the Social Environment – Large Systems
Dynamics of Racism and Discrimination
---