Jina Sang, Ph.D., MSSW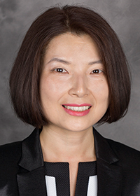 Title: Assistant Professor
Dept/Program: School of Social Work
Office: 415B, Polsky Bldg.
Phone: 330-972-5981
Email: jsang@uakron.edu

---
Biography
Dr. Jina Sang joined the UA social work faculty in 2013. Her areas of expertise focus on children and families. She has worked with children, adolescents, individuals, couples, and families as a clinical social worker in mental health settings in New York, Connecticut, and California. Prior to joining the UA faculty, she taught at the School of Social Work at University of Southern California.
Dr. Sang's primary research interests center on parent-child relationships, children's mental health, and family stress. She has also published books on mental health and parent-child relationships in Asian countries including Korea, China, and Thailand. Currently, she is serving as a member on the NASW Ethics Committee.
PROFESSIONAL INTERESTS
Parent-child relationships
Mental health of children and families
Family stress
RECENT PRESENTATIONS
Sang, J. (November, 2016). Growing up too fast: Is parentification harmful to children? Oral presentation at the 2016 NASW Ohio Chapter Annual Conference, Columbus, OH.

Kim, M. A., Yi, J., Sang, J., Kim, S. H., & Hur, I. Y. (October, 2016). Lives of Korean mothers of children with cancer: An exploratory study using photovoice. Poster discussion session at the 48th Congress of the International Society of Paediatric Oncology, Dublin, Ireland.


Sang, J. (October, 2016). Childhood Behavioral Disorders. CEU Workshop at the University of Akron, Akron, OH.

Kidd, L., Hartman, S., Resler, R., Sang, J., Polasky, S., & Palasik, S. (March, 2015). A poverty simulation for health care professions students. Poster presented to the Charting the Course for New Knowledge, Innovations, and Improvement Conference, Akron, OH.

Sang, J. Cederbaum, J. A., & Hurlburt, M. S. (December 3, 2014). Maternal depression, teen substance use, & father involvement. Poster presented to the Minority Health and Health Disparities Grantees' Conference, Washington, DC.
Sang, J. (October 14, 2014). The Raising of America: Early Childhood and the Future of Our Nation. Bright Star Books, Inc., Akron, OH.
Sang, J. (March 13, 2014). Ethical guidelines for social workers: Social work with multicultural populations. Viewing Globally & Acting Locally. The University of Akron alumni group, Akron, OH.
---
Publications
Sang, J.

, Cederbaum, J. A., & Hurlburt, M. S. (2016). Sexual intercourse among adolescent daughters of mothers with depressive symptoms from minority families.

Journal of Adolescence, 51,

81-91.

Yi, J., Kim, M. A., & Sang, J.

(2016). Worries of childhood cancer survivors in young adulthood.

European Journal of Oncology Nursing, 21

, 113-119.

Sang, J., Cederbaum, J. A., & Hurlburt, M. S. (2014). Parentification, substance use, and sex among adolescent daughters from ethnic minority families: The moderating role of monitoring. Family Process, 53(2), 252-266.
Mennen, F. E., Kim, K., Sang, J., & Trickett, P. K. (2010). Child neglect: Definition and identification of youth's experiences in official reports of maltreatment. Child Abuse & Neglect, 34(9), 647-658. d
Trickett, P. K., Mennen, F. E., Kim, K., & Sang, J. (2009). Emotional abuse in a sample of multiply-maltreated, urban young adolescents: Issues of definition and identification. Child Abuse & Neglect, 33(1), 27-35.
---
Education
Ph.D. University of Southern California
M.S.S.W. Columbia University
B.F.A. New York University
---
Courses
7750:440 Social Work Research I
7750:441 Social Work Research II
7750:425 Social Work Ethics
7750:403 Social Work Practice III
7750:480 Childhood Behavior Disorders
7750:605 Social Work Practice with Small Systems
7750:607 Advanced Practice with Small Systems I
7750:675 Program Evaluation
---