Lisa Crites, MSW, LISW-S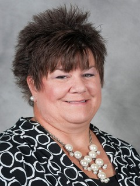 ---
Biography
Professor Lisa Crites has 28 years of social work practice experience, primarily in the areas of mental health, children and families, program development, group facilitation, supervision, and grant writing. All of her practice experience has been in the rural setting, an interest and area of study she continues to focus on in her role as the Coordinator of BA/BASW program at Wayne College. She enjoys reading, music, boating, arts and crafts, volunteering and spending time with family and friends, especially her 4 year old grandson.
PROFESSIONAL INTERESTS
Children and families
Rural social work
Program development
Mental health
Early childhood development
Trauma focused care
PRESENTATIONS
Integrating Vocational Rehabilitation with Addiction Treatment—co-presenter at Opiate Summit in Columbus, Ohio, April 2013.
Professor Crites has presented on several other topics such as parenting, clinical documentation, program development, kinship care, etc.
---
Education
M.S.W. The University of Akron
B.A. in English, Walsh University
---
Courses
7750:607 Advanced Practice with Small Systems I
7750:605 Advanced Practice with Large Systems I
7750:427 Human Behavior and the Social Environment I
7750:401 Practice I
7750:405 Practice I Skills Lab
7750:404 Practice IV
7750:480 Rural Social Work
---