Krovi Named Acting Dean of Business School
06/18/2009

The University's Board of Trustees on June 18 approved a recommendation to appoint Dr. Ravi Krovi as acting dean of the College of Business Administration, effective July 1.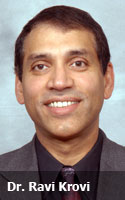 Krovi currently serves as chair of the department of management and is a professor of information systems within the College of Business Administration. He will continue to hold both appointments during his tenure as acting dean. Current business dean Raj Aggarwal will assist in the transition, and then leave on a sabbatical, returning to the UA business faculty in spring semester 2010.
As chair, Krovi manages the day-to-day activities of 21 management faculty, and implements strategic initiatives of the department. He also is responsible for coordinating the recruitment of quality faculty and students, as well as upgrading academic programs and developing relationships with the regional business community.
"Dr. Ravi Krovi is well-regarded and highly respected among his peers at the university and within the College of Business Administration," said Dr. David Baker, the university's interim senior vice president and provost and chief operating officer. "I am confident that his leadership will help us to capitalize on the enormous potential of the College of Business Administration to reach new heights of academic and research excellence, and to advance collaboration and innovation in meeting the challenges of our current economic environment."
Krovi, who earned a doctorate in management information systems and decision sciences from the University of Memphis in 1993, teaches in the areas of software quality assurance, systems analysis and web design, and information technology management. He holds a master's degree in computer science and statistics and an undergraduate degree in engineering.
Prior to his appointment as chair of the department of management, he served as director of the Center for Information Technologies and eBusiness. His research has been primarily in the areas of database mining, agent behaviors and usability. His publications have appeared in such journals as Decision Support Systems, IEEE Transactions on Systems Man and Cybernetics, Communications of the ACM, Journal of Database Management, European Journal of Operational Research and the Journal of Computer Information Systems, among several others. He is currently at work on the areas of risk visualization, open source project management, and data quality assessment.
The native of India has several presentations to his credit and has been involved at the program level in a number of management information systems-related national and international conferences. Krovi also has served as a proposal review panelist for the National Science Foundation. He played a significant role in the College's reaccreditation efforts and has an extensive record of service within the College and the university.
Additional resource:
---
Media contact: Laura Massie, 330-972-6476