March 2014 class notes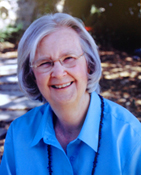 Viola B. Mecke, BA '51, a clinical psychologist and emerita professor at both Stanford University and East Bay California State University, recently published the book "Aging Wisely: Facing Emotional Challenges from 50 to 85+ Years."
Ernest Stadvec, BA '50, a retired pilot and author, recently released a new picture book titled "Schnootzi: The Little Hero." The book embraces diversity in physical appearance.
Bonnie L. Childs, BAED '69, was the 2013 recipient of the Junior League of Akron's Sustainer Inspiration Award. The award is presented to a woman who embodies the league's mission of empowering woman for positive change in the community.
Pamela S. Williams, BSED '68, a community leader and longtime American Red Cross volunteer, received the 2014 H. Peter Burg Community Leadership Award March 6. Named after the late UA alumnus H. Peter Burg, the award is presented to the person who best exemplifies Burg's leadership in the community, compassion for its people, and dedication to the humanitarian mission of the American Red Cross.
Jane E. Bond, JD '76, has been named to the board of Metro Parks, Serving Summit County, where she will serve as park commissioner. The appointment was made by Summit County Probate Judge Elinore Marsh Stormer, JD '82. Commissioners are not paid and serve rotating three-year terms.
Eric M. Czetli, BA '77, has been named director of public service for the city of Cuyahoga Falls by mayor-elect Don Walters.
Ronald L. Desmett, BS '71, and his wife and partner, Kathleen Mulcahy, were named Pennsylvania Artists of the Year by Governor Tom Corbett. The honor was bestowed for their individual body of work and for serving as co-founders of The Pittsburgh Glass Center, where the couple serves as artists-in-residence. The center, which opened in 2001, is considered among the world's leading institutions in the field of art made of glass. Desmett's work is featured in numerous private and corporate collections, as well as the American Art Museum, the Cleveland Art Museum, the Carnegie Museum of Art, and the Corning Museum of Glass. Learn more at www.rondesmett.com.
Philip S. Kaufmann, JD '71, was named a 2014 Ohio Super Lawyer by Ohio Super Lawyers Magazine in the area of estate planning and probate.
Ronald B. Lee, BA '74, JD '78, a partner in the Cleveland office of Roetzel & Andress, was named a 2014 Ohio Super Lawyer by Ohio Super Lawyers Magazine.
David A. Lieberth, BA '69, JD '77, who spent 40 years involved in the life of the community, has published a new book, "Inventive. Industrious, Inspired: The Story of Greater Akron."
Mark H. Ludwig, BA '71, JD '74, is serving his community as Fairlawn's new finance director after being elected to the open, unexpired term that runs through the end of 2015.
Donald R. Truza, AAS '76, BA '80, CEO of The transition Team, received the 2013 Excellence Award from the Business Institute for Excellence.
William G. Chris, BA '82, an attorney with Roderick Linton Belfance, LLP, one of Akron's oldest law firms, was named a 2014 Super Lawyer.
Brent D. Cunningham, BSA '85, was promoted to vice president of international sales for G.I. Sportz/Tippmann Sports, the world's leading manufacturer of paintball markers and paintballs. Cunningham joined Tippmann Sports in 2005 as director of international sales and now will lead the function for the recently merged companies.
Craig S. Marshall, BS '82, JD '86, MT '86, was honored as a 2014 Ohio Super Lawyer by Ohio Super Lawyers Magazine in the area of closely held business law.
Michael J. Morell, BA '80, retired CIA deputy director, was appointed by The Goodyear Tire and Rubber Company to its board of directors in January 2014.
Bruce R. Schrader II, BA '84, a partner at Roetzel & Andress in Akron, was named a 2014 Ohio Super Lawyer by Ohio Super Lawyers Magazine.
J. Anthony Rich, JD '96, was elected president of the Ohio Association of Criminal Defense Lawyers.
Diane M. Sheridan, BS '93, MPA '95, was appointed director of community development for the city of Cuyahoga Falls by mayor-elect Don Walters.
Lydia R. Cooper, BA '01, released a new psychological thriller, "My Second Death," in December 2013. The novel's heroine is sociopath Mickey Brandis, who methodically tries to solve a murder.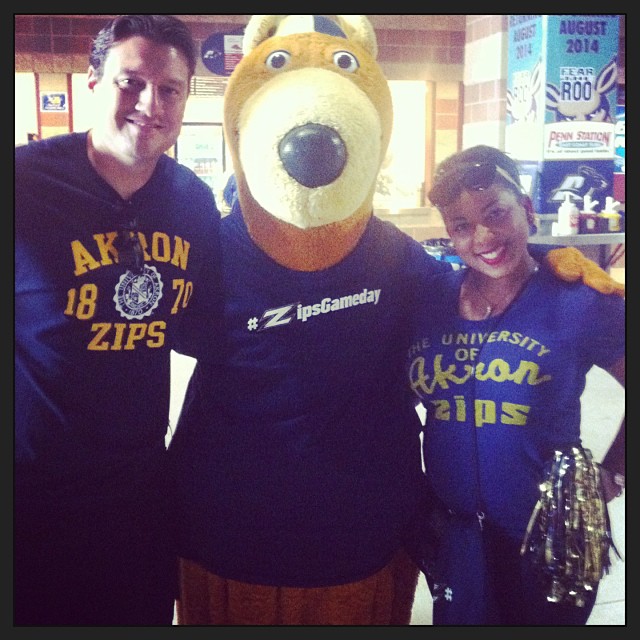 Courtney A. Johnson-Benson, BA '09, MAED '11, and Toby O. Benson, BSED '05, posed with Zippy at the 2013 Homecoming football game.
Bryan J. Hoffman, BA '05, MBA '12, was appointed director of finance for the city of Cuyahoga Falls by mayor-elect Don Walters.
Megan R. McElroy, BS '02, MBA '04, was named manager of the Tax Department at SS&G.

Donald R. Scherer, AAS '99, BS '01, was promoted to partner at Stark & Knoll Co., L.P.A., and named a 2014 Ohio Super Lawyer Rising Star by Ohio Super Lawyers Magazine in the area of business/corporate.
Alex J. Slabaugh, BA '09, MBA '13, JD '13, joined SS&G's Tax Department as an associate.
Andrea A. Wlaszyn, BA '02, MPA '04, received the 2013 President's Award from the Junior League of Akron.
Adam L. Myser, BSA '10, JD '13, returned to his roots and joined his father's law firm, Myser & Davies, after being administered the oath to practice law in Ohio by the Ohio Supreme Court in November 2013.
Tracy A. Taylor, MS '10, left Paragon Advisors to became an associate in the Tax Department with SS&G.
Future Zips
Click image for larger version
Adam M. Bozic, BSED '11, MSED '12, and Julia A. Bozic, MMED '10, welcomed a son, Adam Michael Jr., on December 21, 2013. "AJ" was greeted by sisters Emma and Ella.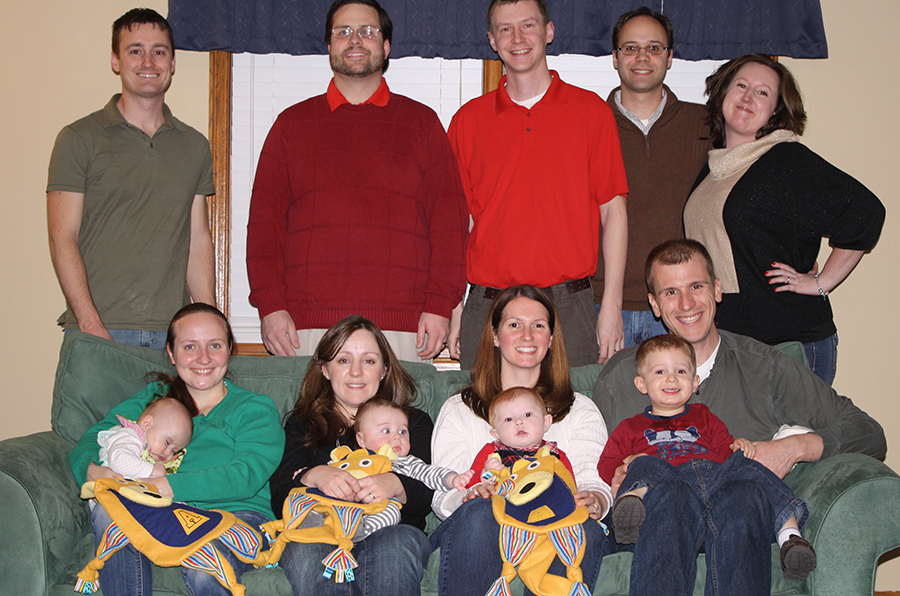 For the eighth year, a group of alumni (many of whom resided in Gallucci Hall) have reunited at Christmas, and this year's gathering, which was held in Zanesville, Ohio, included a number of Future Zips, all born in 2013.
Standing (l-r) are Kasey J. Kelly, BFA '04; Andrew S. Clark, BSED '04; David E. Frank, BSCE '05; Matthew Jenca, BSA '05; and Tiffany Melko Jenca, BSA '05.
Seated (l-r) are Bethany Garrison Kelly, MSED '08, with daughter Adelaide Kelly; Nicola Clark with son John Clark; Kathryn G. Hoskins Frank, BSED '05, MAED '09, with daughter Laura Frank; and Thomas Willey, BSCE '05, holding Alex Frank.
In Memoriam
Sandra K. Alier, BA '82, Dec. 12, 2013
Joseph F. Amedeo, BSED '73, Jan. 9, 2014
Sue S. Ames, BA '41, Jan. 9, 2014
Raymond N. Anderson, BAED '50, Dec. 3, 2013
James P. Banks, retired director emeritus, Development, Dec. 2, 2013
Harold C. Barker, BS '44, Dec. 26, 2013
Margaret S. Biegel, MA '98, former employee, History, Jan. 8, 2014
James M. Bryan, MSE '81, Dec. 26, 2013
Jean M. Buchannan, BSN '64, Dec. 27, 2013
Stephen E. Bussey, BA '02, MA '05, former employee, Center for Family Studies, Jan. 14, 2014
Ronald P. Carzoli, MBA '61, Dec. 6, 2013
Richard W. Clem, BSBA '93, Dec. 16, 2013
Helen D. Cohan, BAED '42, Jan. 12, 2014
Thomas E. Costigan, BSBA '69, MBA '71, retired senior instructor, Finance, Jan. 3, 2014
Kevin A. Csontos, BSA '96, Dec. 30, 2013
Helen L. Cullison, BA '43, BAED '63, Dec. 29, 2013
Devin C. Dearth, BS '91, Jan. 5, 2014
James A. Delagrange, JD '58, Dec. 2, 2011
James M. Ewing, BSIM '59, Dec. 15, 2013
John A. Fedorisin, AAB '82, Nov. 30, 2013
Philip Gertz, BSED '47, MSED '51, Dec. 6, 2013
Ruth M. Greeley, BSED '40, Dec. 18, 2013
William D. Griffiths Jr., BS '67, Dec. 15, 2013
Carolyn R. Hazlip, BS '76, Dec. 10, 2013
Gene R. Hervol, BSIM '58, Dec. 13, 2013
John F. Hoffman III, BSBA '85, Jan. 6, 2014



Merle M. Jackman, AASCO '68, July 6, 2013
Marjorie J. Jones, BSE '71, Dec. 12, 2013
Ann J. Jordan, AAS '85, Dec. 11, 2013
Annetta Karam, UA benefactor, Jan. 15, 2014
Juanita G. Kniss, BA '43, Nov. 18, 2013
Karen S. Krzeminski, AAS '08, Dec. 13, 2013
Rebecca Labowitz, MA '90, Dec. 8, 2013
Mary Leed, JD '73, June 25, 2013
William R. Miller, MSED '66, former employee, Career Development, Dec. 26, 2013
Lawrenzo D. Moses, BS '12, MS '12, graduate assistant, Physics, Nov. 20, 2013
Joanne R. Murphy, BSE '71, Dec. 25, 2013
Shirley A. Nugent, MSED '69, Dec. 14, 2013
Glenda Oneacre, BSE '74, Jan. 9, 2014
Richard L. Pearl, AAB '83, Nov. 28, 2013
Harriet L. Peters, BA '53, Dec. 22, 2013
David Phelps, AAS '80, BSIM '81, Sept. 14, 2013
Gregory W. Prusha, BSIM '01, Dec. 9, 2013
Steven W. Pryseski, BA '84, adjunct, Early College Program, Dec. 19, 2013
David K. Ray, AAB '82, Dec. 27, 2013
James H. Rhodes, BA '93, Dec. 12, 2013
Clarence L. Rogers, BSEE '50, MS '63, Dec. 15, 2013
Marilyn A. Schafer, BSED '57, Dec. 21, 2013
Ryan T. Shelt, AA '01, Jan. 3, 2014
Gerald E. Snyder, BAED '62, Dec. 20, 2013
Joseph A. Takacs, BS '55, BSEE '56, MSEE '61, retired professor emeritus, Electronic Technology, Dec. 28, 2013
Andrew Takas, MBA '73, retired instructor, Marketing, Dec. 1, 2013
Joseph A. Wendel, MSENG '65, Jan. 1, 2014
Arthur Williams III, JD '49, Dec. 6, 2013
Michael A. Wolf, MBA '74, Nov. 21, 2013
Fritz R. Wurgler, AAS '70, Dec. 13, 2013
---
Also see
---
Would you like to share some news?
Send us a note through Post your Pride and we'll include it for the next edition!
E-mail archives
Print magazine archives
---
​