Elisha Ann Dumser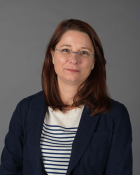 Title: Assistant Professor, Art History Area Coordinator
Dept/Program: Art History
Phone: 330-972-8063
Email: edumser@uakron.edu

---
Biography
Elisha Dumser teaches pre-20th century art history courses, and is the area coordinator for art history. Her research focuses on Roman art and architecture, especially Late Antiquity.
Her publications include Mapping Augustan Rome (2002, reprinted 2008), entries for The Oxford Encyclopedia of Classical Greece and Rome, and a chapter on the urban topography of Rome for The Cambridge Companion to Ancient Rome (2013).
Currently, she is writing a monograph on the architecture of Maxentius (306-312 CE) and articles on the re-use of carved marbles in Late Antiquity and the tetrarchal Arcus Novus in Rome. She has presented papers and chaired sessions at annual meetings of the Archaeological Institute of America, Society for Architectural Historians, Midwest Art History Society and College Art Association.
She serves on the board of directors of the Cleveland Archaeological Society, and on two committees for the Archaeological Institute of America.
---
Education
Ph.D. – The University of Pennsylvania, 2005
M.A. – Case Western Reserve University, 1996 B.A. – The Ohio State University, 1994, Art History and Photography, summa cum laude with honors in the Liberal Arts
---
​