Being moved by movement
04/19/2017

Much of the third floor of Guzzetta Hall is now buzzing with activity as its newest resident – the National Center for Choreography – settles in. At an open house April 18, almost 100 students, dancers, faculty and community members got their first look of the center – NCCAkron for short – featuring dance studios, an open workspace, a dressing room space, a break room, a conference room and a lounge/library.

The center was launched in mid-2015 by The University of Akron and DANCECleveland, with $5 million in support from the John S. and James L. Knight Foundation.

Executive/Artistic Director Christy Bolingbroke spoke to the crowd gathered in one of the dance studios, noting her pride in being able to "showcase athleticism and form, and to demonstrate how dance is rooted in a myriad of different ideas."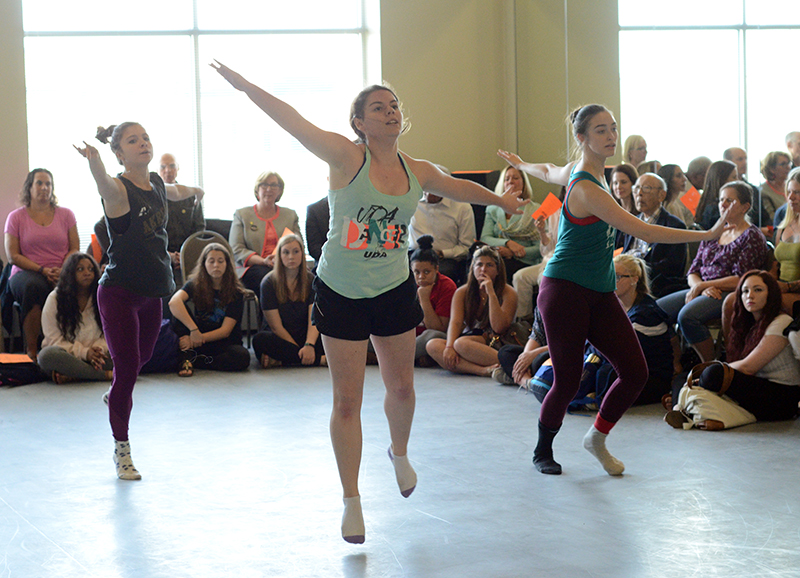 University of Akron dance students perform during the April 18 open house held to introduce the campus and community to the National Center for Choreography.
The program began with two of the day's renown guests: New York City choreographer/dancer Netta Yerashulmy and philosopher David Kishik from Emerson College. Sometimes called a "performance lecture," Yerashulmy deconstructs landmark modern dance works and performs alongside contributions by scholars from different fields in the humanities. For the open house, Yerushalmy performed her piece "Paramodernities #1," based off the famous "Rite of Spring," while Kishik sat in a chair in the center of the dance floor reading off his research into the history and thought process behind dance.
The next part of the program was modeled after choreographer Susan Rethorst's Wrecking® practice. Bolingbroke explained how she felt it was a great way to demonstrate the process of choreographic decisions and options behind making a dance.
Gerald Casel, an award-winning international contemporary dancer, joined Cleveland-born Dianne McIntyre in "hacking" brand new dances choreographed by UA dance faculty members. Two groups of UA students performed their pieces, which were choreographed by UA professors of dance Tom Smith and Cydney Spohn. Then Casel and McIntyre worked with the dancers in short breakout groups to deconstruct the dance and replace any conventional, predictable moves in the piece with something new and different. Less than 30 minutes later, the two groups of student dancers performed the new dances they learned back in the studio.
Making its home on campus, NCCAkron is now ready to bring choreographers from around the world to The University of Akron to explore, experiment, collaborate, and develop and perform their art.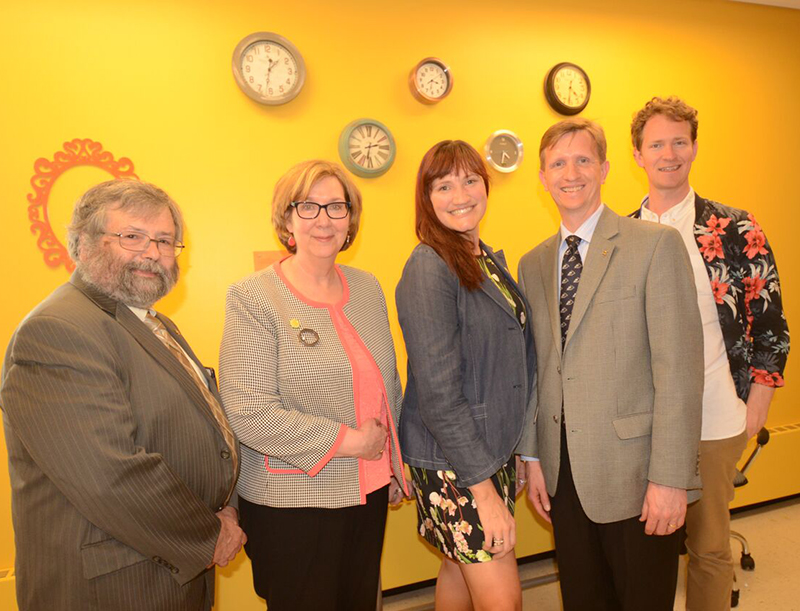 Among those attending the open house were, from left, Dr. John Green, dean of the Buchtel College of Arts and Sciences; Pam Young, executive director of DANCECleveland; Christy Bolingbroke, executive/artistic director of the National Center for Choreography; President Matthew J. Wilson; and John Michael Schert, the Knight Foundation appointee to the National Center for Choreography board.
---
Media contact: Lisa Craig, 330-972-7429 or lmc91@uakron.edu.