OMNOVA funds renovation of chemistry lab
06/29/2012

When University of Akron students return to class in the fall, those who study in the Knight Chemical Laboratory building will have Fairlawn, Ohio-based OMNOVA Solutions to thank — both for a completely renovated advanced teaching lab and for new instrumentation.

A multiyear gift from the company's foundation funded the major overhaul of one of the building's eight laboratories, including the purchase and installation of new laboratory and instrument benches, sinks, wall-mounted cabinetry, and flooring, as well as painting and ceiling repairs. The grant from OMNOVA Solutions Foundation also covered the cost of two new instruments a gas chromatography mass spectrometer and an inductively coupled plasma optical emission spectrometer.
---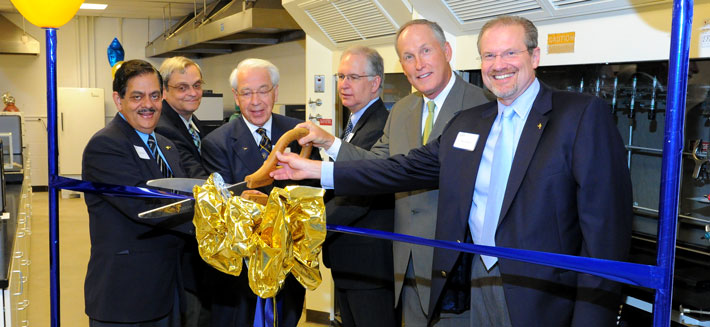 A dedication ceremony celebrating the newly named OMNOVA Solutions Chemistry Laboratory was held June 15. Through its foundation, OMNOVA provided funds for the lab's complete renovation and the purchase of new instrumentation. Taking part in the ribbon-cutting were (l-r) Chand Midha, dean of the Buchtel College of Arts and Sciences; Kim Calvo, professor and chair of UA's Chemistry Department; Ted Curtis, UA's vice president of capital planning and facility management; Michael Hicks, chair of OMNOVA Solutions Foundation; Kevin McMullen, chairman and CEO of OMNOVA Solutions; and Mike Sherman, UA's senior vice president, provost, and chief operating officer.
---
To thank OMNOVA for its generosity and showcase the recently renovated laboratory, the University hosted a dedication ceremony June 15 for OMNOVA executives, University administrators, and members of the Chemistry Department.
Held at the renovated facility, the gathering included the unveiling of a permanent plaque inscribed with the teaching lab's new name: The OMNOVA Solutions Chemistry Laboratory.
"We are very pleased to continue our commitment to the community and our long partnership with The University of Akron through the funding of this important project," said Kevin McMullen, chairman and CEO of OMNOVA Solutions, who spoke at the dedication ceremony.
"OMNOVA has a thriving internship program with the University, and we have many University of Akron graduates working in numerous positions, particularly in our Global Technology Center, just a few miles away," McMullen said. "Helping to make sure chemistry students have laboratory facilities that will prepare them for real-world experience is part of creating a brighter future for the students, the University, and OMNOVA Solutions."
In recent years, the UA Chemistry Department has experienced an increase in student enrollment and presently serves more than 160 undergraduate chemistry majors and more than 60 graduate students – as well as more than 5,000 students from various other disciplines.
See also:
---
Story by Marisha Daniels.
Media contact: Sarah Lane, 330-972-7429 or slane@uakron.edu.