Tressel to share life lessons weekly on WKYC-TV
10/02/2012

Last month, Jim Tressel described the journey to success to a Forum Series audience at E.J. Thomas Hall. On Wednesday nights, he'll share many of those same points with viewers across Northeast Ohio.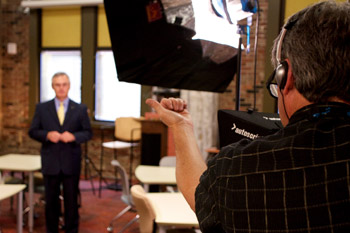 Jim Tressel prepares for the first segment of "A Moment with Jim Tressel." It will be broadcast during the 7 p.m. newscast on WKYC-TV (Channel 3).
---
Tressel, the vice president for strategic engagement, will share life lessons during a weekly segment titled "A Moment with Jim Tressel" on the 7 p.m. newscast on WKYC-TV (Channel 3).
Tressel will tell stories about his endeavors here, and about his time on the sidelines. The stories will illustrate the larger truths about hope, character, attitude, teamwork, leadership and handling adversity.
"Jim's national championships as head football coach at Ohio State and Youngstown State universities are well-known to all," said Brooke Spectorsky, president and general manager at WKYC, "but his motivational speeches and best-selling books will be the basis of our "A Moment with Jim Tressel."
"Jim motivates with passion but leads with compassion,' added interim News Director Virgil Dominic. "We envision a weekly segment that takes daily news stories and makes them teachable moments."
Tressel taped the first segment last week.
"I'm part of a new team now at The University of Akron, and it's a really big one," Tressel says during the segment. "I'm figuring out how to harness the energy of nearly 30,000 students to move the whole team forward. The lessons I've learned, and the ones I'm learning now, I'll keep sharing with you."
President Luis Proenza says the segments will strengthen The Akron Experience.
"In his new role as our VP for strategic engagement, Jim is responsible for student success, from application and recruitment to graduation and beyond — what we are calling The Akron Experience," Proenza said. "We think his weekly television segments will only add to his community outreach and help grow The Akron Experience."
Students: If you want a chance to be featured in one of Jim Tressel's Channel 3 life lessons talks, tell us your story on Twitter or Facebook and tag it #Tresselmoment. Better yet, create and share a 1-minute video about your favorite achievements and tag it "Tresselmoment" on YouTube.
​