The University of Akron and the community
The city of Akron offers a vibrant downtown, serene parks, and events and venues that appeal to almost every interest. Here's a taste of what you can discover in Akron and the region:
Accommodations while visiting UA
Lodging options are available within 15 minutes of the University (list from Google).
Downtown Akron
If you want to get off campus and discover Akron, downtown is the place to start. Easily accessible and only minutes away, downtown Akron puts you in the center of vibrant cultural amenities, living opportunities, delicious dining options, unique shopping excursions and more.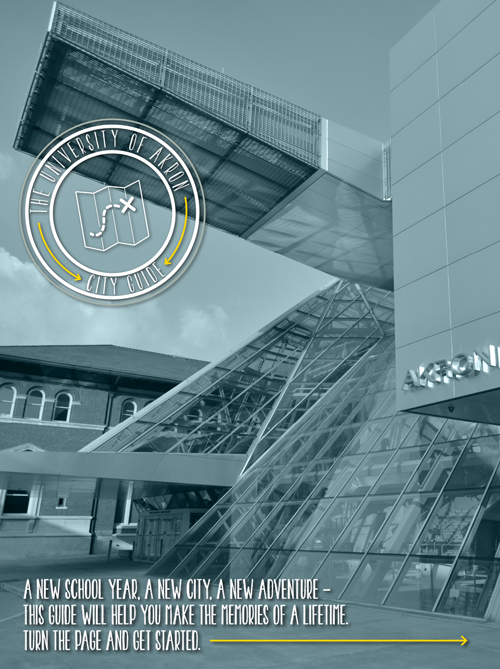 DOWNLOAD THE CITY GUIDE FOR STUDENTS
Learn about internships, where to dine, entertainment options and more. Download now.
Advantages of city living
Entertainment
Whether you grab a bite at a restaurant downtown or attend a minor league baseball game, Akron always has something to keep boredom at bay.
Internships and co-ops opportunities
The university has great relationships with distinguished business in the surrounding areas, benefitting students with prominent internships and co-ops.
Networking
Part-time jobs
Close weekend trips
You don't have to travel far to enjoy an affordable vacation away from your studies. Whether you prefer exploring a forest via zip line, canoeing and fishing in the lake or skiing down a snow trail, there are numerous getaway locations within 3 hours of the university for you to discover.
Sports
The city of Akron is home to Zips athletics as well as professional and minor league teams. Students of Akron have the best of both worlds; the community involvement in a Division I Athletics program, along with access to multiple major-league teams within 45 minutes of campus.
Arts and culture
Get lost in the abundance of art and culture located in Downtown Akron. No matter your interests, there's something to suit your creative flare.
Theaters/Plays
Art
Music
Food and shopping
So many restaurants, so little time. Try to find your favorite fare amongst the decadent and flavorful cuisine in the area. Your taste buds will thank you.
Food
Shopping
Get active
Get up and get moving! Staying active in between classes and studying couldn't be easier in Akron. With endless possibilities around the area, you'll have a hard time choosing which one you want to do first.
Live music
Who doesn't love a live band or concert? Grab your friends and enjoy the talents of local, national, and tribute artists at multiple locations all as unique as the performers themselves.
Blossom Music Center - This famous music venue features national artists and also doubles as a haunted horror attraction in October
Lock 3 - Downtown Akron's outdoor venue offering affordable, family entertainment
Nightlife - No time for sleeping when Akron's vivacious nightlife is within walking distance from campus
Annual events and festivals
Akron hosts thousands of events each year from live concerts to monthly art walks and historic festivals to holiday celebrations. Join other students and citizens of Akron in learning and loving your community.
Museums
The rich history of Akron has been archived in the city's many museums. Students can take advantage of Free Thursdays at the Akron Art Museum, student discounts at the Hower House and so much more.
Religion
The city of Akron provides numerous selections for spiritual growth in different religious practices.
Click on this link for a directory of Apostolic, Baptist, Brethren, Catholic, Christian, Episcopal, Lutheran, Non-Denominational, Orthodox, Pentecostal, Presbyterian, and United Methodist churches.