THE UNIVERSITY OF AKRON'S DRS. NICHOLAS AND DOROTHY CUMMINGS
Center for the History of Psychology
In Association with the Smithsonian Institution
About the Center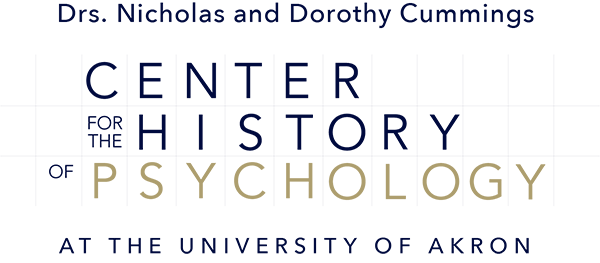 The Drs. Nicholas and Dorothy Cummings Center for the History of Psychology, located at The University of Akron in Akron, Ohio, collects, preserves, provides access to, and interprets the historical record of psychology and related human sciences. Read more.
The Center houses the Archives of the History of American Psychology, the National Museum of Psychology and the Institute for Human Science and Culture.
Read our mission and values.
Announcements
Registration now open for the 8th Annual Benjamin Lecture
Building a home for the history of psychology over the past two decades has afforded
Dr. David B. Baker
with ample opportunities for understanding our past and ourselves. Baker will review some of those opportunities, lessons learned, and hopes for the future during this year's
Ludy T. Benjamin, Jr. Distinguished Lecture in the History of Psychology
. Registration is now open for the lecture, to be held
May 19, 2022
at Greystone Hall.
Learn more and register today.
Cummings Center provides historical analysis for APA apology
Earlier this year, the Cummings Center was commissioned by the American Psychological Association (APA) to produce a historical chronology on psychology's contributions to the belief in racial hierarchy and perpetuation of racial inequality. The
historical chronology
is now available online.
Learn more about the Cummings Center's role
in the recent APA resolution.
Location, hours and contact
73 South College Street, Akron, OH, 44325-4302
Museum and Institute Hours:
Tuesday, Thursday, Friday and Saturday: 11:00 am - 4:00 pm
Wednesday: 1:00 pm - 8:00 pm
Sunday and Monday: Closed
Current health & safety precautions.
Archives: By appointment
Phone: 330-972-7284
Email: ahap@uakron.edu
Parking: Free parking is available in the parking lot adjacent to the building. Visitors can also park in Lot 30 at the corner of College and Market streets. Metered parking is available along South College Street.
---
Follow Us
Cummings Center for the History of Psychology

Institute for Human Science and Culture

Donate now to support the Cummings Center for the History of Psychology.
Sign up to join the CCHP email list for events and news.