THE UNIVERSITY OF AKRON'S
DRS. NICHOLAS AND DOROTHY CUMMINGS
Center for the History of Psychology
In Association with the Smithsonian Institution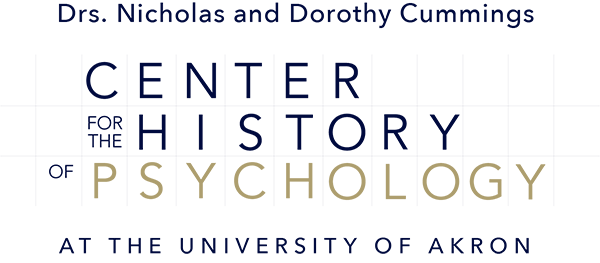 About the Center
The Drs. Nicholas and Dorothy Cummings Center for the History of Psychology, located at The University of Akron in Akron, Ohio, collects, preserves, provides access to, and interprets the historical record of psychology and related human sciences. Read more.
The Center houses the Archives of the History of American Psychology, the National Museum of Psychology and the Institute for Human Science and Culture.
Read our mission and values.
Location, hours and contact
73 South College Street, Akron, OH, 44325-4302
Museum Hours: Tuesday-Saturday 11 am-4 pm; Thursday 11 am-8 pm
Archives and Institute Hours: By appointment
Museum Phone: 330-972-5457
Main Phone: 330-972-7285
Email: ahap@uakron.edu
Parking: The adjacent parking lot is currently closed for construction. Visitors can park in Lot 30 at the corner of College and Market streets. Visitor parking is also available at meters across the street from the CCHP.
---
FOLLOW US:
Donate now to support the National Museum of Psychology.