Evening with the Accountants
Evening with the Accountants (EWA) is the annual professional outreach and recruitment event held at the Quaker Station and hosted by the George W. Daverio School of Accountancy. Representatives from about 40 employers arrive at the Station ready to meet and informally interview about 200 students. Employers advertise open internship (or employment) opportunities through the University's Career Center in advance of the event, which students sort through and review online. In the weeks leading up to the event, students will also be preparing for EWA by working with our our faculty, staff and Junior Advisory Board (JAB) to learn to create professional resumes and effective cover letters. Workshops and mock interviews are also held to teach students about appropriate business attire and good interviewing etiquette.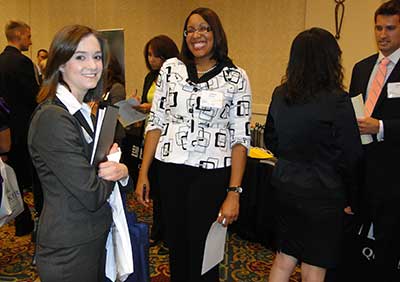 Our highly motivated accounting students seek internships in order to develop and strengthen their accounting and business knowledge, skills and abilities. Interns also gain valuable insight into the accounting profession and learn about various opportunities in the accounting field. Employers who have made use of the internship program routinely report that it has been a fulfilling and highly beneficial experience for their organizations.

Our interns normally work full-time for 10 to 16 weeks during either the Spring or Summer terms. Though we do not currently have a fall internship program, we would be delighted to consider fall internships when available. Interns normally receive three credits that count as a senior-level elective in the BS Accounting program. Thus, it is important that their internship responsibilities be comparable to those given to entry-level staff accountants. The internship experience is highly meaningful and significant for us and our students; it contributes to developing a well-rounded accounting graduate; and it assures that students develop pride in their employers and in the accounting profession. The hourly rate earned by accounting interns has generally ranged from $15.00 to $25.00 and averaged about $20.00. Participating employers routinely say that the program proved to be fulfilling and highly beneficial to their organizations.

Interviews will be conducted on campus from September 26 to October 14, 2016 in the Student Union. In addition to interview week, we would be very grateful if you could note and observe following important dates:
September 10. Deadline for posting employment position(s) in Handshake (available August 23), the University's web-based career management system. We would like each employer to post positions in that site in order to reach all our students.
September 16. Deadline for students to post resume.
September 20. Evening With the Accountants (EWA 2016)at Quaker Square Station from 4:00 p.m to 7:00 p.m. In preparing for the fall recruitment season we encourage you to participate in EWA 2016. Approximately 200 students and 40 employers participate each year. Cost for four representatives to attend EWA 2016 is $115.Additional representatives will pay $30 each. Questions regarding this event should be directed to Nancy Stott in the School of Accountancy at 330-972-7588 or nsstott@uakron.edu.
September 26. Deadline for selection of candidates you wish to interview on campus. Please ensure at least one day for the candidates to prepare.
October 18. Common deadline established in partnership with accounting program chairs from Cleveland State, Kent State and John Carroll for firms to offer positions to students. For fall 2016, we are requesting that students receive offers no earlier than October 18.
October 24. Suggested first day for students to accept offers. Please consider providing students with at least five days to make a decision on offers they receive—i.e., on or after October 24.
Employers posting internships:
To post your internship position(s) and schedule your on-campus interview date, you must access Handshake (available August 23), the University's online job system, by September 10. If you need additional assistance or information regarding on campus interviews, please contact Cody at 330-972-7042 or internships.cba@uakron.edu.

We look forward to seeing you on campus this fall. On behalf of our students, faculty and staff, thank you for your support and contribution to our programs.