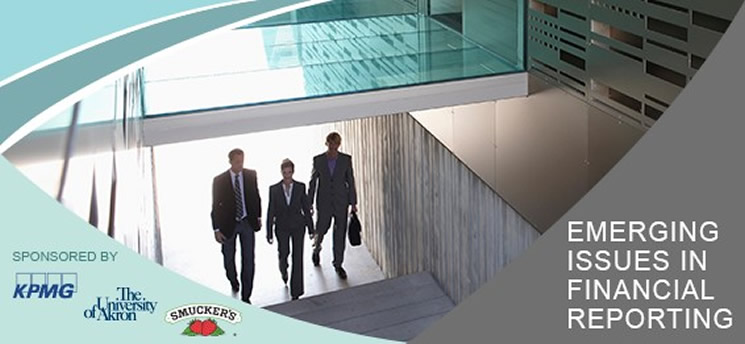 From the focused attention on non-GAAP financial measures to challenges in implementing the new accounting standards, finance executives face an ever-growing need to stay current on the latest reporting developments.
Join KPMG, The J.M. Smucker Company and The University of Akron's George W. Daverio School of Accountancy as we discuss emerging issues and the latest innovations that drive your financial reporting decisions.
Date

Friday, March 24, 2017

Time

8:00 a.m.– 4:30 p.m.

Location

The University of Akron Student Union
303 E. Carroll street
Akron, OH 44325
Featured Presentations
CFO Roundtable

Mark Belgya, Senior Vice President and CFO, The J.M. Smucker Company

Joseph Kohmann, Group Finance Leader and Treasurer, Westfield Insurance Company

Laura Thompson, CFO and Executive Vice President, Goodyear Tire & Rubber Company

Michael Tokich, CFO, Treasurer & Senior Vice President, STERIS Corporation

SEC Hot Topics
Digital Labor in the Finance Function
Tax Reform/Legislative Update
Motivating Employees through a Deeper Sense of Purpose
Registration
More Information
Contact Shelly Stata at 216-875-8064.
Continuing Professional Education (CPE)
This session is ideal for professionals in audit, finance, treasury and financial reporting. You may qualify for up to seven (7) CPE credits for this seminar. This is a live, intermediate-level program and no advanced preparation or prerequisites are required.
By the end of the course, the participants will be able to:
List the key issues facing CFOs today and the evolving CFO agenda
Descibe the SEC's key areas of focus for today's financial reporting environment
Descibe the role of digital labor in the financial reporting environment
Descibe key aspects of the new tax and legislative reforms currently in development