With savvy marketing, student lands top NYC internship
05/25/2012

More than 100 college students from around the country competed to be selected as "The New York Intern" at a top marketing and public relations firm, Affect, based in New York City. The winner — selected because she most creatively marketed herself — is University of Akron student, Katey Kimpel. Besides a summer experience in the Big Apple, she will receive $5,000 and a housing stipend of $2,500.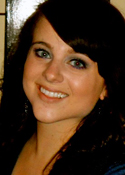 Katey Kimpel
---
Affect, named a PR News Top Place to Work in PR, staged the contest (The 2012 New York Intern Project), in which applicants had to market themselves through interviews, video, social media, writing tests and more.
Kimpel was chosen through a nationwide search that garnered more than 236,000 total page views and a combined total of 15,953 votes and 161 comments.
Kimpel, of Columbiana, Ohio, is a communication major with an emphasis in public relations and a minor in consumer marketing. She credits much of her success to the public relations and marketing coursework that she has taken at the University, her involvement in campus-related activities such as the Public Relations Student Society of America (PRSSA) and guidance she has received from her instructors Deborah Owens and Julie Cajigas.
Her journey began after she received more than 1,200 online votes with her video, "OH, TO NYC I'LL GO! – A Dr. Seuss Parody," that made her a quarter-finalist.
"Julie Cajigas helped me to focus on two different audiences: the voters and the judges," says Kimpel.
"I helped Katey with establishing her personal brand that was consistent with her webpage and Twitter account. I also aided her in choosing her best writing samples for her portfolio," says Cajigas.
"Julie also suggested a rhyme because that would be catchy and I thought of Dr. Seuss. 'Oh, The Places You'll Go' is my favorite of the Dr. Seuss books and I took that and created a PR pitch out of it."
She charmed the judges during the Skype online interviews and won her place in the top two and was flown to New York City for the semifinal interviews.
"Dr. Owens advised me to not portray myself as the typical 'cookie cutter' visualization of a student intern, but to be professional and prepared," says Kimpel. "I actually went and bought a new suit before I left, which I think worked in my favor considering the other finalist didn't dress in business professional attire for the interview."
Kimpel's passion and enthusiasm dazzled the judges during her time in New York, according to the Affect announcement.
"I am looking forward to working with professionals in the industry and getting to learn from them. I believe this internship will open doors for me upon graduation," she says. "I love the atmosphere of the city. It would be a great adventure to be there as a young adult and be able to experience the city with a different perspective than I did as a child. It's more than just a new environment; it is the unique 'New York' experience that I'm looking forward to."
Story by Marisha Daniels.
Related:
---
Media contact: Sarah Lane, 330-972-7429 or slane@uakron.edu.