Academic adviser is among nation's best
06/26/2012

Bernadette Citano's gifts as an academic adviser were apparent early. While still in high school, she was able to steer a younger sister to the right sequence of mathematics courses, which led to greater academic success and later, to a career as a corporate executive.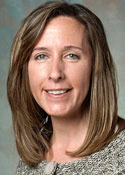 Bernadette Citano
---
Today, Citano is doing the same for scores of traditional and nontraditional students in University College. Her efforts to guide them as they work toward admission to a degree-granting college have brought her professional recognition on the national level.
The National Academic Advising Association, an organization with nearly 11,000 members, has named Citano "Winner of Outstanding Advising Award-Primary Advising Role." A full-time academic adviser since joining UA in 2005, Citano will receive the award at the NACADA annual conference in October in Nashville, Tenn.
Devised system that helps students graduate
Praised for her dedication in letters of nomination from students and colleagues, Citano is credited with developing a system of collaboration with faculty advisers and primary advisers in some of the degree-granting colleges. Working in tandem with the other advisers to develop an action plan, she has helped University College students with high credit hours to overcome obstacles and transfer into their degree granting college. The system is now used by all advisers in the Academic Advisement Center as well as other colleges to help with high hour students.
"The combination of research, data, collaboration, use of technology and the personal contact with each student Bernadette advises has worked very well," notes Nancy Roadruck, director of the Academic Advisement Center.
"Academic advising has changed so much in the last few years as NACADA has grown as a professional organization," Roadruck continues. "There is a need for research to be conducted about the effect academic advising, and specific advising strategies have, on retention and student success. Bernadette's work is being recognized by NACADA because it shows a specific retention strategy that combines all aspects of higher education right now."
A bridge builder
Citano sees much of what she does as, "building bridges at different levels — the institution, the degree granting colleges, departments and among colleagues. As the NACADA state representative for Ohio, I also adhere to the same belief in building bridges among institutions with shared professional development experiences and best practices. I tell students, 'Don't go it alone.' Likewise, we should not go it alone. We work better as a team."
Citano earned a B.B.A. in Business and Human Resource Management in 1988 and a M.Ed., Higher Education Administration and Student Personnel in 2004, both at Kent State University.
This is the fourth time in recent years that NACADA has recognized UA's efforts on behalf of students.
The Transfer Student Services Center submitted a proposal which was selected as an example of Exemplary Practice, and will be showcased in the next NACADA monograph about transfer advising.
See also: