SoC Students Benefit from Dr. Roger Cooper's Research Presentation
09/30/2013
"Being adaptable is the number one attribute as rated by current professionals, no matter what part of the media industry." -Dr. Roger Cooper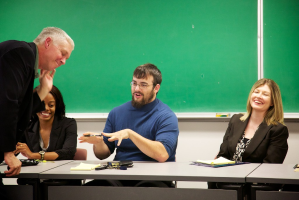 Dr. Roger Cooper, Associate Professor at Ohio University, spoke at the School of Communication Research Colloquium Series. His presentation, The Attributes for Career Success in the Media Industries: Research and Application for Media Education, offered excellent information for faculty and students alike.
View more pictures from the research colloquium on the SoC Facebook page here.
Focusing on the specific attributes and characteristics that lead some media students to successful careers even as others are not able to achieve the same success, Dr. Cooper's research yielded a variety of results applicable to students' personal careers, and to the methods faculty use to instruct them. His presentation reviewed the literature on media career achievement and proposed a new way to look at preparing students for success.
Students who attended enjoyed his interactive presentation, and were able to participate in a lively discussion about his current and future research. Some of the most memorable quotes Dr. Cooper offered during his presentation included:
"Cognitive measures like GPA and IQ have a very low predictive ability for media professions."
"Being adaptable is the number one attribute as rated by current professionals, no matter what part of the media industry."
"Media education should prepare students for the LAST job, not just the 'first' job. Developing both hard and soft skills is important, but mastering soft skills is crucial."
"Soft skills important for career success include ability to communicate, problem-solving skills, relationship-building skills, being proactive. The little things matter."
"Pathways in media are non-linear. People often end up doing something quite different than where they started out."
"In my experience it takes about a year for even the best graduates to get settled on their path. The first job you get will often be beneath your education level. Getting coffee is a rite of passage that matters."
Above quotes all by Dr. Roger Cooper at The University of Akron School of Communication Colloquium on Friday, September 27 at 2 p.m.
After the presentation, faculty, students and campus community members were invited to join Dr. Cooper for a social hour, and later for dinner. These two sessions offered many opportunities for one-on-one time with Dr. Cooper, who generously gave his time well into the evening to share his own research and learn about the research of University of Akron SoC students and faculty.
We would like to extend our heartfelt thanks to Dr. Roger Cooper for being part of our School of Communication Research Colloquium Series.
The next Colloquium is on Friday, Oct 18, at 2 p.m., featuring Marilyn Greenwald, PhD and Tim Doulin. Please check back soon for more details.
About Dr. Roger Cooper: Dr. Cooper's research focuses on media uses in convergent environments and personality attributes that enhance career success in the creative industries. He has published research in Journal of Broadcasting & Electronic Media, Communication Theory, Journalism and Mass Communication Quarterly, Media Management Review, Journal of Sports Media, International Journal of Sport Communication, Journalism and Mass Communication Educator, Journal of Media Education, and Mass Communication and Society. Dr. Cooper was a Fulbright Scholar, the recipient of the National Association of Television Program Executives Faculty Fellowship, and the Television Academy Faculty Fellowship. He also received the University Professor Award. Dr. Cooper is the Director of the Media Sales Institute at Ohio University, the Interim Associate Director for Graduate Studies and former Director of the School of Media Arts and Studies at Ohio University.
To learn more about Dr. Roger Cooper, visit his faculty profile.
​