Scholarships for Education Students
The College of Education is grateful for the generous support of alumni, friends, foundations and organizations. The donations we receive help us to achieve our goals.
To read about the many scholarships available for Education students or to contribute to a scholarship fund, visit the Department of Development website.
The application period for College of Education Scholarships runs from March 1-31 each year. Watch for the link to be posted on the College of Education website.
---
2016-17 Scholarship Summary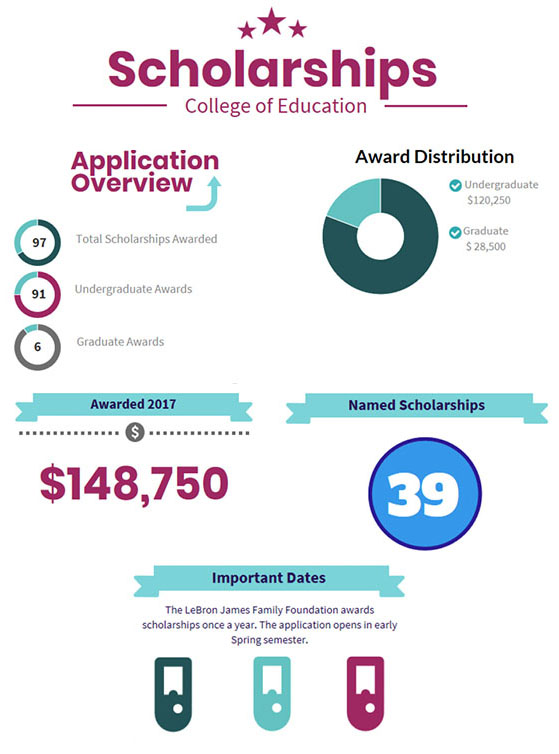 ---
Alpha Delta State Ohio Education Foundation
Esther Strickland Student Teaching Grant 2018-19
The Alpha Delta State Ohio Education Foundation is offering student teaching grants through the Esther H. Strickland Student teaching fund. These grants are in the amount of $1,000.00 to a student that will be doing student teaching during the 2018-2019 school year.
The applications for this grant will be due February 1, 2018, and recipients will be notified by letter and honored at our Alpha Delta State Convention in April 2018.
To apply for this grant eligible students can visit our Alpha Delta State website, at alphadeltastate.weebly.com, and go to the link ADSOEF.

Marilyn M. Slusser, Scholarship Chairperson
2721 Pine Valley Court
Dayton, Ohio 45414
hmstreas@gmail.com or 937-890-6799
---
Choose Ohio First Scholarship Program
The goal of the Choose Ohio First Scholarship Program (COFSP) is to produce around 800 additional graduates in the science, technology, engineering and mathematics (STEM) fields at The University of Akron. Learn more
---
TEACH Grants available
The Teacher Education Assistance for College and Higher Education (TEACH) Grant Program provides grants of up to $4,000 per year to students who intend to teach in a public or private elementary or secondary school that serves students from low-income families. Get information about federal TEACH grants

The University of Akron has set additional specifications for its TEACH Grant recipients. Learn more.