Brueck assumes new role in the COE
We are pleased to announce that Dr. Jeremy Brueck has accepted the position of director of teacher education in the LeBron James Family Foundation College of Education. His new role will begin Oct. 17.
Brueck has an extensive background in education and has served as a visiting assistant professor and the associate director of the Center for Literacy. He also has served as PreK-12 curriculum & technology specialist and grade 3 teacher. He holds several professional licenses, is the recipient of numerous grants, and has published extensively.
Please join us in welcoming him to his new role.
Employees earn degrees in August
Congratulations to the two University employees who earned graduate degrees from the LeBron James Family Foundation College of Education as part of the Summer Class of 2016:
Steven J. Jacobson, Office of the Registrar, M.A. in Educational Administration – Higher Education Administration
Scotland R. Uhl, Parking and Transportation Services, M.A. in Educational Foundations – Instructional Technology
Our students are achievers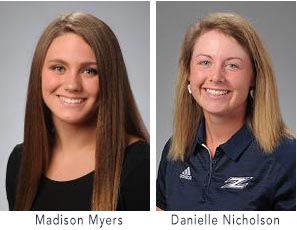 Madison Myers and Danielle Nicholson have been named as PNC Student Athlete Achievers by The University of Akron Student Athlete Academic Services.
Myers, a member of the Women's Swimming and Diving team, is a student in the Early Childhood Education programs. She is a Copley High School graduate.
Nicholson, a member of the Women's Golf team, is an AYA Biology/Chemistry major. She graduated from Geneva (Ohio) High School.
Both recipients have demonstrated notable achievements in athletics, academics, community service and personal development. Congratulations, Madison and Danielle!
'New' Zook Hall is designed for educators of tomorrow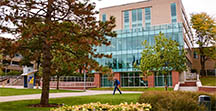 The newly renovated Zook Hall — home of the LeBron James Family Foundation College of Education — has flexible learning spaces and the latest technology, all designed to match the classrooms where UA students will one day be teaching. Video and story
Related media
LeBron James Family Foundation partners with College of Education
History of Zook Hall slideshow