Vice Presidents
UA's Senior Vice President, Provost and Chief Operating Officer
Dr. William M. "Mike" Sherman
Dr. William M. "Mike" Sherman is UA's senior vice president, provost and chief operating officer. As UA's top academic officer, Sherman has oversight of academic planning and budgeting, curriculum development, assessment, human resources and information technology services.
Sherman joined UA in 2010, having arrived from The Ohio State University, where he served as vice provost for academic planning and professor of sport and exercise science.
At Ohio State, Sherman led strategic planning for OSU's colleges, with a primary focus on academic facilities and resources. He helped launch OSU's academic facilities planning initiative, and he helped set the stage for implementing the university's global agenda. Sherman held reporting responsibilities for four regional campuses, University Libraries, the John Glenn School of Public Affairs, and the P-12 Project, among others. Read more about Sherman.
Candace Campbell Jackson
Vice President for Student Success and Vice Provost for Academic Success
Jackson serves The University of Akron community as the vice president for student success and vice provost for academic success. She works closely with President Scott Scarborough; Senior Vice President, Provost and Chief Operating Office Mike Sherman and other members of the University's senior leadership team to provide the best overall student experience to each of the University's nearly 26,000 students.
As vice president, Jackson provides strategic and operational leadership to nearly 600 employees in over 20 student-success and student-academic-support units.
Jackson is a graduate of the Harvard University Institute for Educational Management (IEM), The University of Akron School of Law (J.D.) and Howard University in Washington, D.C. (B.S. - Journalism).
---
Ted Curtis, AIA, NCARB
Vice President for Capital Planning and Facilities Management
Ted Curtis — a registered architect in 10 states, including New York, California and Ohio — joined The University of Akron in 1998. Since 2000, he has led the "New Landscape for Learning" campus enhancement building program. To date, UA has added 22 new buildings, 18 major additions or renovations and 34 acres of green space.
In addition, Curtis has responsibility for University Police, Office of Environmental Health and Safety, and the Physical Facilities Operations Center.
Curtis, who holds a B.S. in architecture from Kent State University, also has done graduate coursework at Harvard and Pepperdine universities. He is president of AIA & Associates Architectural Construction Consultants. Curtis previously worked for Hilton Hotels Corporation and Conrad International and Kent State.
---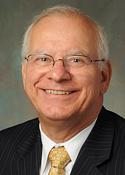 John A. LaGuardia
Vice President for Institutional Advancement
In his more than 30 years of service to his alma mater, John A. LaGuardia has worked in various areas of institutional advancement. He was appointed to his current post in 1997, and oversees the Alumni Association, Governmental Relations, the Department of Development, and the Department of University Communications and Marketing.
As of March 31, 2013, more than $881 million has been raised – toward a $1 billion goal — for scholarships, endowments, buildings, and programs.
LaGuardia earned bachelor's and master's degrees at the University. He was associate director of alumni relations from 1971 to 1979, and director from 1979 to 1985. Following positions in the private sector, LaGuardia returned to UA in 1994 as executive director of the alumni association and executive director of governmental relations.
---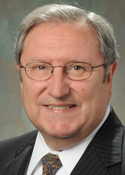 Ted A. Mallo
Vice President and General Counsel
As General Counsel to The University of Akron, and subject to the authority of the Ohio Attorney General, Ted A. Mallo has coordinated and directed the legal affairs of the University since 1976. He is the chief legal adviser to the Board of Trustees, president, and the University's officers and administrators. Mallo began serving UA in a legal capacity in 1972, becoming its first director of legal affairs in 1976. In 1989, he became the first General Counsel among state universities in Ohio and was made Vice President and General Counsel in 1996. He has been an Assistant Attorney General since 1983.

Since 1994, Mallo has annually been elected secretary of The University of Akron Board of Trustees, and from 1989 until August 1994, he served as the assistant secretary of the Board. He also is an adjunct associate professor in the College of Education, and has served as adjunct faculty in the School of Law.

Mallo earned bachelor's, master's and Juris Doctor degrees at The University of Akron.
---
Nathan J. Mortimer
Interim Vice President for Research
Associate Chief Financial Officer

Nathan J. Mortimer has taken on the role of vice president for research, on an interim basis, in addition to his role as associate chief financial officer.
Mortimer joined UA in 2003 as chief audit executive, leading its Internal Auditor's Office. Prior to his UA service, Mortimer served the Office of the Ohio Auditor of State in positions of progressively increasing responsibility, including assistant chief deputy auditor of the Canton region, senior audit manager and audit manager.

Mortimer earned a B.B.A. in Accounting at Kent State University and has been a CPA registered in the state of Ohio since 1996.
---
​