Online Donations to Support University Libraries
Your gift helps ensure that all students have access to the knowledge, resources, spaces, and personalized guidance they need to succeed in their academic pursuits. If the form does not appear below, click here to Donate to University Libraries.
Legacy for Learning Bookplate Program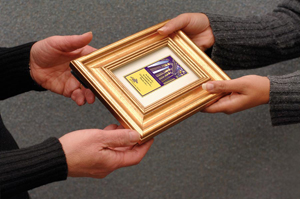 Celebrate, honor, or remember a special person or occasion with the purchase of a new book for the University Libraries, inscribed on a Legacy for Learning bookplate.
How the Program Works
Legacy for Learning bookplates are inscribed with a personal tribute.
They are placed in new acquired books in the subject area of your choice. An inscribed copy also is placed in a leather-bound archive located in the University Libraries Dean's Office in Bierce Library.
As the contributor, your name, the name of the book and the book's University Libraries location will appear with the archived copy for easy reference.
The University Libraries will gratefully acknowledge your contribution with a card to keep or give.
For additional contribution, an enlarged copy of the bookplate, nicely matted and framed, can be mailed to you or your honoree.
All Legacy for Learning designations qualify as charitable contributions to the University Libraries.
$125 for an inscribed bookplate and acknowledgement
$200 for an inscribed bookplate, acknowledgement and framed bookplate
$1,000 includes five inscribed and framed bookplates
Contributions of $1,000 or more qualify for membership in The University of Akron's John R. Buchtel Society, with special mailings and opportunities throughout the year.
Inscriptions may be up to four lines. Here are some samples:
The Board of Trustees,
Company or Organization
Honors Charlotte Smith Love
Trustee 1996-2006
Celebrating 50 years
Margaret and Henry Jordan
June 4, 1956
For Alex Rose,
Bachelor of Science in Chemistry 2006
from his proud parents!
Remembering
David Graham, Class of 1943
1920-2006
For Jim Jack,
from his grandchildren
We love you!
Christmas 2006