GENERAL BOOKS INFORMATION
Archives and Special Collections preserves and makes available books in three areas:
Rare Books
Special Collections Books
Archives Books
Rare Books include valuable, rare, scarce, or fragile materials requiring special care and monitoring. Many of the most significant volumes are part of the Herman Muehlstein Rare Book Collection.
Special Collections Books consist mostly of printed volumes relating to regional history, including regional publishers, local authors, and books relating to Ohio canals, the rubber industry, and lighter-than-air flight. Special Collections also contain books deemed too old, valuable, or fragile for inclusion in the general circulating collection of University Libraries.
Archives Books relate to the history of The University of Akron. These consist of books published about The University of Akron, faculty publications, and books published by The University of Akron Press.
HERMAN MUEHLSTEIN RARE BOOK COLLECTION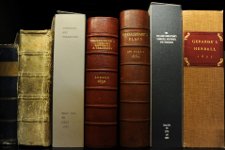 The most distinguished collection of books housed within Archives and Special Collections, the Herman Muehlstein Rare Book Collection consists of more than 200 rare books and first editions. This collection amassed by Mr. Muehlstein was first given to The University of Akron in 1955. At the time of his death, in accordance with the provisions of his will, the University received the remainder of Mr. Muehlstein's collection.
The collection includes volumes of international significance. Notable volumes include:
All volumes are included in University Libraries' online catalog. The entire collection can be browsed by searching for the Muehlstein Collection in UA Libraries Catalog.