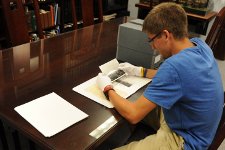 ON-SITE RESEARCH
Archives and Special Collections welcomes both on-campus and off-campus researchers. Currently, an appointment is necessary, and it is preferred that researchers contact Archives and Special Collections before visiting, so the staff understands your research question and expedite service to you. In order to preserve the rare and unique materials in the collection, all on-site patrons must follow guidelines in order to access the materials. Please see our Reading Room Policies for further information.
REMOTE RESEARCH
Archives and Special Collections staff can provide general information for remote researchers through telephone, e-mail, and postal mail. Generally, remote research is limited to 1 hour before a research fee is applied. Please see the Fee Schedule and contact Archives and Special Collections for further information.
PHOTOCOPYING AND SCANNING
Photocopying and scanning requests are handled by Archives and Special Collections staff. Staff reserves the right to prohibit photocopying or scanning of fragile documents. Requests for photocopies or scans may take several business days. Please allow for appropriate time to complete photocopying and scanning requests. Please see the Fee Schedule for information.
USE OF MATERIALS IN PUBLICATIONS & EXHIBITS
Use of materials in publications and exhibitions require permission from The University of Akron Archives and Special Collections. Patrons using materials for these purposes must complete an Application to Use Materials Form that must be approved by the Head of Archives and Special Collections.
Additional permission may need to be acquired from the copyright holder if the material is still under copyright and not owned by Archives and Special Collections. It is the researcher's responsibility to make a good faith effort to track down copyright holders to acquire permission to publish or exhibit their materials. Archives and Special Collections staff will assist patrons with this process as much as possible.
CITATIONS
Citations of archival materials and manuscripts are identified by the style manual of the researcher's discipline. Generally, when using materials from Archives and Special Collections for published works or class projects, please cite in the following manner:
[Identification of Item], [Title of Collection], Archives and Special Collections, University Libraries, The University of Akron, Akron, Ohio.
RESTRICTED MATERIALS
Some materials in Archives and Special Collections are restricted because of their sensitive nature or because they contain personal or confidential information. Restrictions are placed by the donor, depositor, or the repository. Some records are protected by federal laws such as the Family Educational Rights and Privacy Act (FERPA) and the Health Insurance Portability and Accountability Act (HIPAA). Examples of restricted records are student records, personnel files, donor files, medical records, and any materials containing personal information such as addresses and social security numbers.
PUBLIC RECORDS REQUESTS
Access to some public records may require a public records request. Public records requests must be submitted in writing to the Records Compliance Officer in the Office of General Counsel either by letter or e-mail. Please see the Procedure for Complying with Public Records Requests for more details.
RESEARCHING FAMILY HISTORY
Archives and Special Collections serves as a nine-county repository for local government records. Holdings vary, so please contact Archival Services staff before visiting. Also check the appropriate courthouses and county departments for their holdings, particularly more recent records.
Other resources that may be helpful include city directories, maps, and yearbooks. When researching family history, it is advised to have as much information about individuals as possible including maiden names and birth, death, and marriage dates.