The Honors Complex is a six-story building with elevator service, located on the North Quad, accommodates 300 students in single and double occupancy rooms. Each side-by-side single room shares a bathroom while double occupancy rooms have a private bath. There are two Resident Assistants on every floor for supervision and guidance. The Honors College offices, a computer lab, classrooms and meeting areas are located in the academic wing of this hall. Students residing in this hall must be a member of the Honors College.
Amenities
Items in bedroom (per person)

Bed (36x80" mattress)
Desk w/chair (desk lamp provided)
Small dresser
Wardrobe
Additional Information
Air conditioning
Tile floors
Mirror
Wastebasket
Wireless internet and cable TV service
Private bathroom in doubles
Shared bathroom between side-by-side single rooms
One light in door walkway - additional task lighting is student-provided
Free laundry facilities located on first floor
A computer lab, classrooms and meeting rooms for Honors College events are located in this hall
Lounge area located on each floor
Zip Card (student ID) access
Meal Plan required
Room Dimensions
13'5" x 22' (two-person room)
10'6" x 22' (single-person room)
Additional Details
No. of Floors: 6
Location: North Quad
Gender: Coed by Room
Bath: Suite/Room Bath
Smoke Free: yes
Air Conditioning: yes
Cable: yes
Hardwire Internet: yes
Wireless Internet: yes
Computer Lab: yes
Floor Study Areas: yes
Laundry Facilities: yes
Kitchen Facilities: no
Vending Machines: yes
Convenience Store: no
Disabled Access: yes
Elevator Access: yes
Meal Plan Required: yes
Living Learning Community: yes
Photo
Floor plans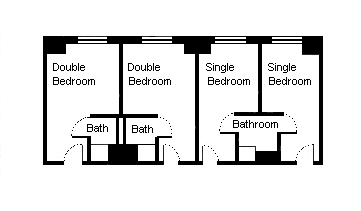 Building plan
Click here to view the layout of the residence hall.
---
Tweets by @UA_ResLife