Paul Bonezzi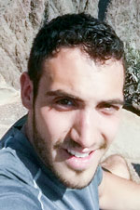 ---
Research
I earned my undergraduate degree here at the University of Akron, graduating with a Biology major and a chemistry minor. My original plans were to go to medical school, but after taking a course with Dr. Jordan Renna last fall I was quickly persuaded into pursuing a graduate program here at Akron.
I am an aspiring neuroscientist and I am specifically interested in studying the electrical conductivity of neurons within the eye and brain of mice. My main area of focus will be mastering patch clamp electrophysiology along with other techniques involved in this line of research. Most of my projects will include studying specific ion channels within neurons.
I also hope to collaborate with many others from various fields like biomechanics and biochemistry.
Education
B.S. Biology, University of Akron
---