Carrie Buo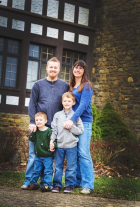 ---
Biography
Currently living in Medina with my husband and two sons, I am a Walsh University graduate with a B.A. in Business Management. I worked several years in the business world, but after losing my job during the 2009 recession, I became a stay at home mom. After spending 6 years at home with my children, I decided to go back to school and focus on something I love, biology. Thanks to Dr. Richard Londraville, I discovered the Integrated Bioscience program.
I will be working in Dr. Londraville's lab studying leptin, particularly in zebrafish, but hope to eventually move into working on business sustainability. I want to find ways to reduce waste without losing quality, especially in laboratory environments. IB is giving me the opportunity to combine my business management experience with hard science. Not having much research experience, I am excited to begin my journey in the IB program.
What attracted me to the IB program most was the desire to make the world a better place for my kids, along with the ability to use my business expertise while working in the biology field. I think having a different perspective from traditional scientists will enhance my research.
---
Education
B.A. in Business Management; Walsh University
---