Randi Depp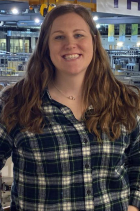 ---
Biography
I am part of the Andronowski lab, which utilizes 3D imaging techniques to visualize bone microstructure and understand the role of both intrinsic and extrinsic factors of bone remodeling.
My academic and career interests have long been interdisciplinary. At the University of Findlay I combined science with criminal investigation and earned a dual bachelor's in forensic science and criminal justice. Afterward, my professional roles included program assistant for a non-profit specializing in domestic violence services and legal assistant and paralegal for corporate medical and pharmaceutical product liability cases. I returned to school at Cleveland State University, where I completed a bachelor's in biology. My goal was to find a way to apply biology to forensic contexts. At Mercyhurst University I obtained my master's in biological and forensic anthropology. During that time, I applied forensic anthropological methods to real forensic cases and conducted research focused on taphonomy and the postmortem interval (PMI). This included the use of textile degradation and bacterial community succession to estimate PMI in forensic anthropological cases.
In the IB program, my goal is to continue to coalesce my diverse interests and experiences by examining forensic anthropological questions through a biology-driven perspective and providing alternative methods for estimating crime scene data.
---
Education
M.S. Biological and Forensic Anthropology | Mercyhurst University
B.S. Biology | Cleveland State University
B.S. Forensic Science | The University of Findlay
B.A. Criminal Justice Administration | The University of Findlay
---