Dr. Matthew Becker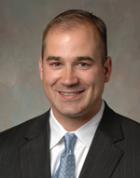 ---
Biography
Matthew Becker is the Associate Dean for Research in the College of Polymer Science and Polymer Engineering, and the W. Gerald Austen Endowed Chair in Polymer Science and Polymer Engineering.
Professor Becker joined UA in 2009 where he is a Professor of Polymer Science and Biomedical Engineering.
To date, his group has published more than 100 papers and has 20 patents pending. He is the founder of two start-up companies, 3D BioResins & 3D BioActives. In 2015, Professor Becker was one of two scientists worldwide under 40 named Macromolecules-Biomacromolecules Young Investigators.
Professor Becker completed his Ph.D. in organic chemistry in 2003 at Washington University in St. Louis under the direction of Professor Karen L Wooley as an NIH Chemistry-Biology Interface Training Fellow.
In 2003, Dr Becker moved to the Polymers Division of the National Institute of Standards and Technology for a NRC Postdoctoral Fellowship in biophysics. He joined the permanent staff in 2005 and led projects in bioimaging and combinatorial methods for tissue engineering working with the NIH, Industry and FDA to advance measurement methods for combination products. He received his BS in chemistry in 1998 from Northwest Missouri State University.
---
Research Accomplishments
My group focuses on synthesizing macromolecular materials, which stimulate and influence cell functions including proliferation, differentiation and internalization.
These materials incorporate bio-functional species in a controlled manner with the goal of directing cell responses.
We are developing new peptide-and DNA-based ligands and nanoparticle reporters for the characterization of molecular signatures, which occur during these processes. The knowledge gained from these studies impacts numerous areas in biomaterials, regenerative medicine, and the detection of disease states, including cancer.
Publications
J Yu, F Lin, P Lin, Y Gao, ML Becker* "Phenylalanine-based Poly(ester urea): Synthesis, Characterization and in vitro Degradation" Macromolecules 2014, 47(1),121-129.
F Lin, J Yu, J Zheng, S Xie, ML Becker* "Post-electrospinning Modification of Amino acid-based Poly(ester urea) Nanofibers for Tissue Engineering" Macromolecules 2013, 46(24), 9515-9525.
F Lin, J Yu, W Tang, J Zheng, A Defante, K Guo, C Wesdemiotis, ML Becker* "Photopatterned Functional Oxime Hydrogels with Tunable Mechanical Properties and Gelation Behavior" Biomacromolecules, 2013, 34, 9089-9095.
LA Smith Callahan, S Xie, I Barker, J Zheng, DH Reneker, AP Dove, ML Becker "Accelerated Differentiation and Neurite Extension of mESC on Aligned Poly(lactide) Nanofibers Functionalized with YIGSR" Biomaterials, 2013, 34, 9089-9095.
W Tang, Y Ma, S Xie, K Guo, B Katzenmeyer, C Wesdemiotis, ML Becker* "Valency Dependent Affinity of Hydroxyapatite-binding Dendrimers" Biomacromolecules, 2013, 14, 3304-3313.
Y Ma, J Zheng, EF Amond†, CM Stafford, ML Becker* "Facile Fabrication of "Dual Click" One- and Two-Dimensional Orthogonal Peptide Concentration Gradients" Biomacromolecules, 2013, 14, 665-671.
J Zheng, K Liu, DH Reneker, ML Becker "Post-Assembly Derivatization of Electrospun Nanofibers via Strain-Promoted Azide Alkyne Cycloaddition" J. Amer. Chem. Soc., 2012, 134(41), 17274-17277.
NM Moore, NJ Lin, ND Gallant, ML Becker* "Enhancing MC3T3-E1 Osteoblast Proliferation Using Immobilized Osteogenic Growth Peptide on Gradient Substrates Synthesized via "Click" Chemistry" Biomaterials, 2010, 31, 1604-1611.
MC Weiger, JJ Park, MD Roy, CM Stafford, A Karim, ML Becker* "Quantification of the Binding Affinity of a Specfic Hydroxyapatite Binding Peptide" Biomaterials, 2010, 31, 2955-2963.
KA Aamer, KL Genson, J Kohn, ML Becker* "Impact of Polymer-bound Iodine on Fibronectin Adsorption and Osteoblast Cellular Morphology in Radiopaque Medical Polymers: Tyrosine-derived Polycarbonate Blends as a Model System" Biomacromolecules, 2009, 10(9), 2418-2426.
KA Aamer, CM Stafford, L Richter, J Kohn, ML Becker* "Elastic Modulus Stiffening in Tyrosine-derived Polycarbonates Thin films and their Blends." Macromolecules, 2009, 42(4), 1212-1218.
MD Roy, SK Stanley, EJ Amis, ML Becker* "High Specificity Hydroxyapatite Binding Motif Identified via Phage Display" Advanced Materials, 2008, 20(10), 1830-1836.
MD Roy, A Herzing, SH Lacerda, ML Becker* "Emission-Tunable, Microwave Synthesis of Highly Luminescent Water Soluble Quantum Dots" Chemical Communications, 2008, 2106-2108.
JA Fagan, ML Becker, J Chun, EK Hobbie "Length Fractionation of Carbon Nanotubes using Ultracentrifugation" Advanced Materials, 2008, 20(9), 1609-1614.
---
Education
2003 Ph.D. Organic Chemistry, Washington University
2000 M.A. Organic Chemistry, Washington University
1998 B.S. Chemistry, ACS Accredited, Northwest Missouri State University
---