Dr. Rolando J. J. Ramirez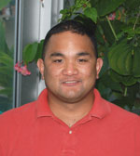 Title: Associate Professor
Dept/Program: Biology
Office: ASEC C303
Phone: 330-972-2753
Fax: 330-972-8445
Email: rjr@uakron.edu

---
Biography
My areas of interest includes cardiovascular diseases that occur during pregnancy, in particular, preeclampsia. Preeclampsia is a severe hypertensive disease that only develops during pregnancy and is the leading cause of maternal and fetal morbidity and mortality. I have been investigating this disease by studying different animal models in which we alter different facets of physiology to yield a similar phenotype to the disease. This phenotype includes hypertension and fetal growth retardation. From these models, we have generated exciting data characterizing detrimental alterations in maternal blood vessel function.
Although most of my research has focused on pregnancy the impact of these studies goes well beyond pregnancy. For example, increased understanding of the normal and pathological changes that occur during pregnancy can help: clarify hormonal changes that occur as a result of menopause, increase understanding of cardiovascular sex differences, and may help in the development of future therapies for hypertension. Because of this I am also interested in pathophysiological changes that may occur to cause hypertension in the non pregnant setting. This includes (but is not limited to): genetics, metabolic alterations, and anatomical changes.
---
Research
Debrah DO, Novak J, Matthewa JE, Ramirez RJ, Shroff SG, and Conrad KP. Relaxin is Essential for Systemic Vasodilation and Increased Global Arterial Compliance During Early Pregnancy in Conscious Rats. Endocrinology 147 (11) 5126-31, 2006.
Ramirez RJJ, Matthews JE, Novak J. Altered Myogenic Responsiveness in Resistance Sized Mesenteric Arteries after Uterine Perfusion Pressure Reductions in Late Pregnant Rats. Hypertension in Pregnancy 30, 1 :45-57, 2011 .
Reho Jj, Peck Jp, Novak J, Ramirez RJJ. Hypertension Induced By Episodic Reductions In Uteroplacental Blood Flow In The Gravid Rat. Hypertension In Pregnancy. 30,1 :208-2020 2011 .
Toot JD, Reho JJ, Novak J, Dunphy G, Ely DE, and Ramirez RJJ. Colony Social Stress Differentially Alters Blood Pressure and Resistance-sized Mesenteric Artery Reactivity in SHR/y and WKY Males. Stress (Accepted May 2010; Final Production).
Toot JD, Salisbury R, Ramirez RJJ and Ely DE. Androgens Alter Brain Catecholamine Content in the Testicular Feminized Rat. Clinical and Experimental Hypertension (Accepted May 2010; Final Production and Early Online).
Toot JD, Reho JJ, Novak J, Dunphy G, Ely DE, and Ramirez RJJ. Testosterone Increases Myogenic Reactivity of Second-order Mesenteric Arteries in Both Defective and Normal Androgen Receptor Adult Male Rats. Gender Medicine. 8, 1: 40-52, 2011.
Toot JD, Reho JJ, Ramirez RJ, Novak J, Ely DL. Alterations in vasomotor systems and mechanics of resistance-sized mesenteric arteries from SHR and WKY male rats following in vivo testosterone manipulation. Biol Sex Differ. 2012 Jan 3;3(1):1. doi: 10.1186/2042-6410-3-1. 2012
Toot JD, Reho JJ, Novak J, Dunphy G, Ely DL, Ramirez RJ. Testosterone increases myogenic reactivity of second-order mesenteric arteries in both defective and normal androgen receptor adult male rats. Gend Med. 2011 Feb;8(1):40-52. doi: 10.1016/j.genm.2011.01.002. 2011
Reho JJ, Toot JD, Peck J, Novak J, Yun YH, Ramirez RJ. Increased Myogenic Reactivity of Uterine Arteries from Pregnant Rats with Reduced Uterine Perfusion Pressure. Pregnancy Hypertens. Apr;2(2):106-114. Epub 2011 Dec 13. 2012
Ditto AJ, Reho JJ, Shah KN, Smolen JA, Holda JH, Ramirez RJ, Yun YH. In vivo gene delivery with L-tyrosine polyphosphate nanoparticles. Mol Pharm. 2013 May 6;10(5):1836-44. doi: 10.1021/mp300623a. Epub 2013 Apr 8. 2013
Vodstrcil LA, Tare M, Novak J, Dragomir N, Ramirez RJ, Wlodek ME, Conrad KP, Parry LJ. Relaxin mediates uterine artery compliance during pregnancy and increases uterine bloodflow. FASEB J. 2012 Oct;26(10):4035-44. doi: 10.1096/fj.12-210567. Epub 2012 Jun 28.
Education
West Virginia University, B.A., Biology
West Virginia University, Ph.D., Physiology
---