Certificate of Advanced Spanish for the Health Professions and First Responders
Health professionals and students of the health professions understand that because the Spanish speaking population in the US is growing at a steady rate and many Hispanics have very limited proficiency in English, the need for doctors, nurses and other health professionals who can communicate directly with patients is critical. This 15 credit certificate will give participants a solid grounding in oral and written medical Spanish proficiencies and strong cultural competence in order to deal effectively with Spanish speaking patients. This will be done through the advanced study of medical terminology in Spanish and the creative use of Spanish language in simulated conversations that enact real professional medical settings. Certificate students will also have the opportunity to earn hands-on experience by participating in Hispanic Health Fairs, where they will work with physicians that are not proficient in Spanish to provide free health screenings, consultations and advice for living a health lifestyle to members of the Hispanic Community.
The Certificate of Advanced Spanish for the Health Professions and First Responders is open to all students specializing in the Health Professions at the University of Akron (majors in the College of Health Professions, BS/MD, Premed, biology, psychology, biomedical engineering, biochemistry, chemistry, pre-physical therapy, first responders, etc.). Currently enrolled UA students who wish to pursue the certificate must have completed 202 (or equivalent) with a minimum grade point average of 3.0 in Spanish. Admission for all others seeking the certificate is contingent on satisfactory performance on an Oral Proficiency Interview conducted by a member of the Spanish faculty. The certificate may be earned along with the Spanish minor and major.
Requirements. The requirements for the Certificate are 15 credits beyond 202. The classes that students need to take are a combination of core medical classes and optional classes at the 300 and 400 levels:
Core courses (9 credits)
3580:307 Spanish Conversation: Health Professions and First Responders (3 crd)
(Development of Spanish medical oral expression through the study of health terminology and the practice of conversational skills within a medical context. Conducted in Spanish)
AND
3580:308 Spanish Composition: Health Professions and First Responders (3 crd)
(Development of Spanish medical writing skills through intensive practice and study of health terminology and medical written expression in Spanish. Conducted in Spanish)
AND
3580:360 Hispanic Culture through Film (3 crd)
(The study of Hispanic culture and its societal norms and traditions through the analysis of Hispanic Film. Conducted in Spanish)
Optional courses (6 credits)
3580:301 Spanish Conversation (3 crd)
3580:302 Spanish Composition (3 crd)
3580:303 Spanish Grammar (3crd)
3580:401 Advanced Conversation (3 crd)
3580: 402 Advanced Composition (3 crd)
3580-311 (Spanish / Spanish-American Cultural experience) (1-6 crd)
3580:417 (Spanish / Spanish American Study Abroad Experience) (3-6 crd)
*Students interested in applying for the Certificate should contact the certificate coordinator Dr. Parizad Dejbord Sawan for an appointment. During that appointment, students will complete the add certificate program form, and a program of studies worksheet will be drafted to ensure correct sequencing of classes and timely completion of the certificate.
Community Engagement Volunteer Work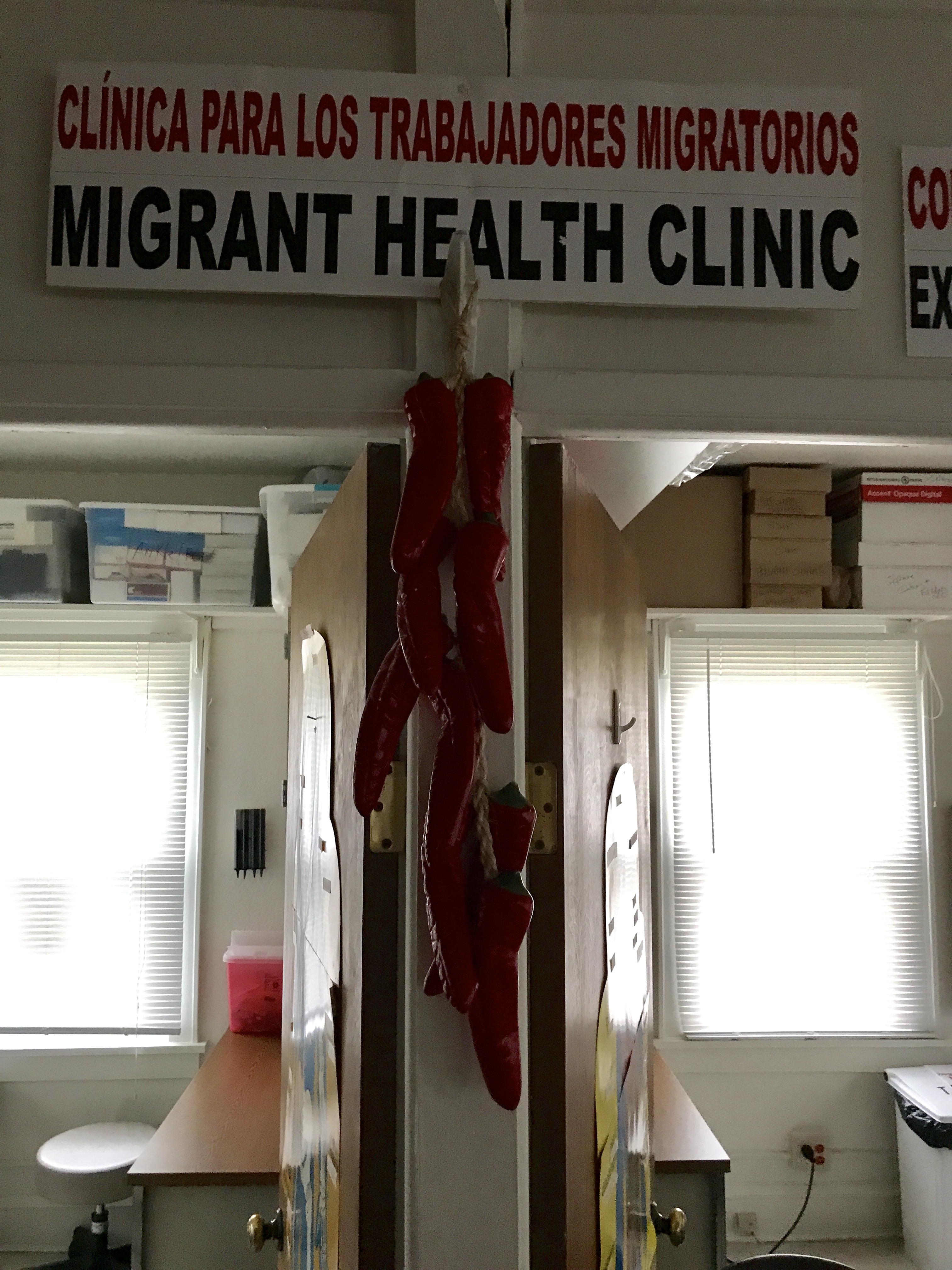 Students pursuing the Certificate of Advanced Spanish for the Health Professions and First Responders have the opportunity to engage with the Spanish-speaking community during the summers through the Hartville Migrant Medical Clinic. Current students work with previous graduates and NEOMED students to fulfill the needs of Ohio's migrant workers. Certificate students can shadow doctors and nurse practitioners and gain hands-on experience working with Spanish speakers in a clinic environment. There are also opportunities to develop yoga classes for the farmers and work with the children, reading and playing games in Spanish.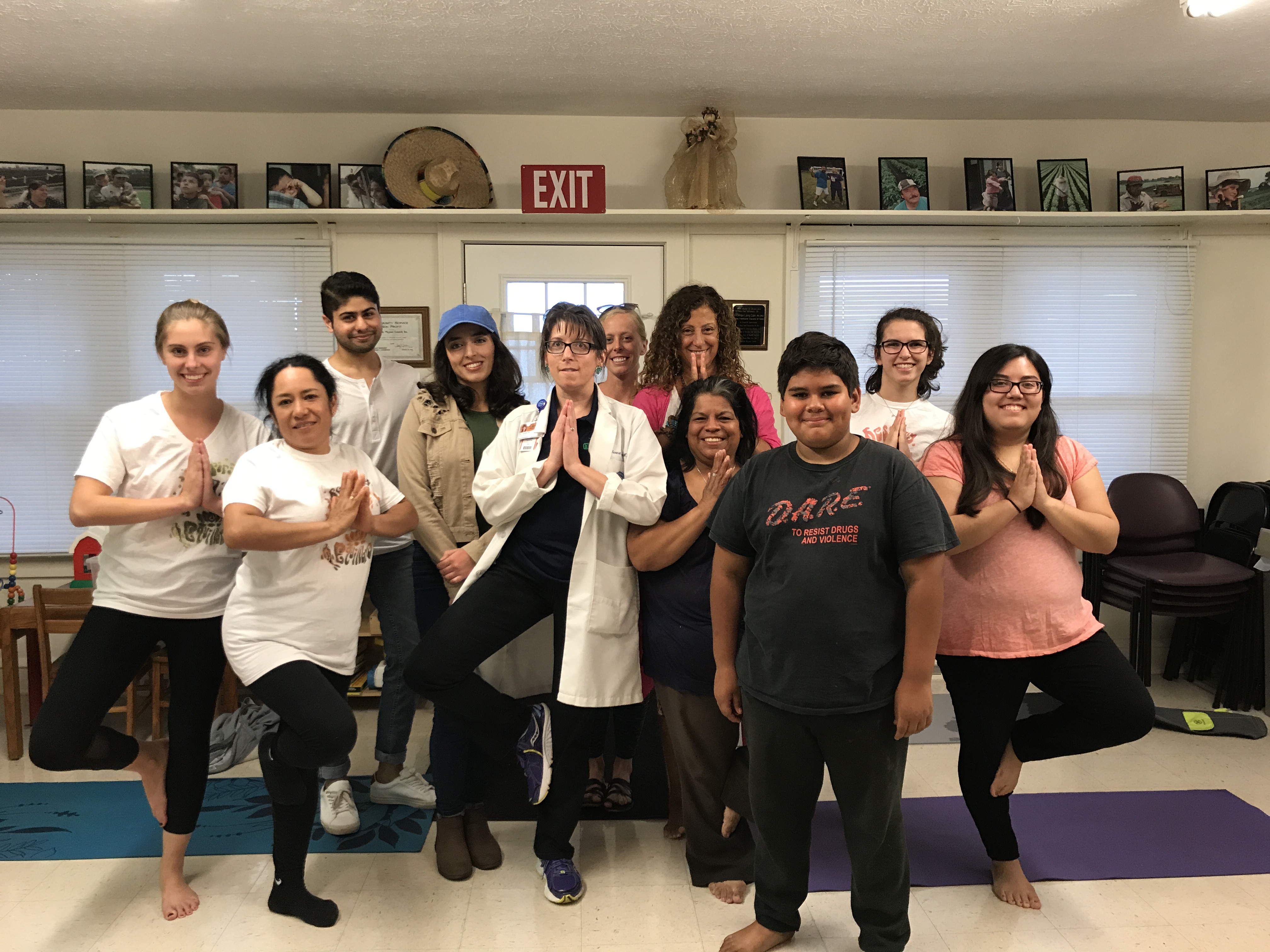 COMMUNITY HEALTH FAIR
On March 9, 2014, students from Spanish Conversation for the Health Professions class partnered with NEOMED physicians and medical students at St. Bernard's Church for a Community Health Fair day. Many of these students are working towards The Advanced Certificate of Spanish for the Health Professionals and are acquiring the appropriate linguistic skills and cultural proficiency that will allow them to interact effectively with members of the Hispanic community in a medical setting. Hispanic community members were provided with various medical screenings, from diabetes testing to glaucoma, and were given explanations of their test results in their native language with the help of our students. These future doctors and nurses will certainly have an edge on the market, since their knowledge of medical Spanish and their cultural sensitivity will allow them to communicate effectively with the Hispanic patients they will serve!