How to apply for housing
HOUSING FOR NEW FRESHMEN
One of the most exciting parts about going to college can be living on campus. Here's what you need to do.
1. APPLY AND BE ACCEPTED TO UA
Haven't applied yet? Take a few minutes and fill out an application to become a Zip!
Interested in touring campus? See our upcoming Admissions events!
2. PAY YOUR CONFIRMATION FEE
Once accepted to UA, submit your Intent to Enroll form and pay the confirmation fee by May 1, if you haven't already. It'll take about seven business days for New Student Orientation to process the payment.
3. COMPLETE THE UA HOUSING APPLICATION
About three days after the confirmation fee is processed, login to My Akron and look for the Manage Housing icon on the left. The freshman housing priority deadline is May 15.
The freshman housing priority deadline is May 15.
In your housing application, you'll be asked to list your preferred residence halls. Find your housing fit to make your selection. If you want to live with a friend, have their UANet ID number ready.
In the housing application, you'll also be asked what meal plan you'd like; you can check those out here.
4. PICK YOUR ROOM
Once you submit the housing application fully, you'll get a housing confirmation letter in the mail saying when you can self-select your hall, floor, and bed space. See the timetable.
If you apply for housing late, or choose not to pick a space, the system will place you automatically after May 31, taking into consideration your preferred hall, a roommate if you specified one, and the answers to your questionnaire.
Living Learning/Emerging Leader students will be sent separate instructions for the selection process. Confirmation of your room and meal plan assignment will be sent through UA email in late June.
Current residents
Current UA students may begin applying for 2019/2020 housing through My Akron at noon Monday, Feb. 11, 2019. Students will select a room in late-April 2019. More information will be sent to housing applicants as room selection dates draw near. As always, current students will select a room before new students giving them first dibs on available spaces!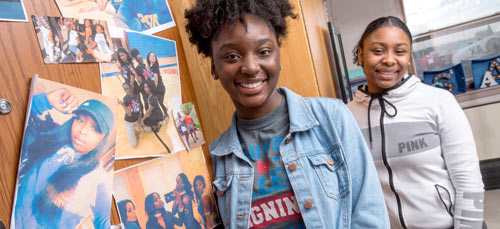 Explore the halls
When deciding your preferred halls, it is important to consider what options are the most important to you. Here you'll find everything you need to pick a building and make your room your own.