Apply for housing
HOUSING FOR NEW FRESHMEN
One of the most exciting parts about going to college can be living on campus. Here's what you need to do.
1. APPLY AND BE ACCEPTED TO UA
Haven't applied yet? Take a few minutes and fill out an application to become a Zip!
Interested in touring campus? See our upcoming Admissions events!
2. PAY YOUR CONFIRMATION FEE
Once accepted to UA, submit your Intent to Enroll form and pay the confirmation fee by May 1, if you haven't already. It'll take about seven business days for New Student Orientation to process the payment.
3. COMPLETE THE UA HOUSING APPLICATION/CONTRACT
Once you are eligible to apply for housing, you will be extended an invitation through your University and default email address. You may access the housing application/contract through My Housing icon located in My Akron
The freshman housing priority deadline is May 15.
Housing Application/Contract requires:
Signed Contract
Co-sign if the student is under 18
$150 housing prepayment
4. PERSONALIZE YOUR EXPERIENCE
As soon as you compete the housing application, you will be automatically directed to the Personalize Your Experience form where you can indicate your preference for a specialized community and building preferences.
5. MY COLLEGE ROOMIE
Within 2 business days of completing your housing contract, you will have receive an email to your UA email account inviting to you the My College Roomie website. Here is where you can answer an extensive series of questions and try to find a roommate and create a roommate group. If you do not find a roommate match through this process, don't panic, you can go through room selection without a roommate group.
6. SELECT A ROOM
Students who complete the Housing Application/Contract by the priority deadline will have access to My College Roomie to find a roommate and will be able to participate in online room selection.  We accept housing contracts at any time (even after the start of the contract period), however, students who complete the contract after May 15 will be manually assigned a room by our housing staff.
If you are not familiar with the residence halls, please be sure to find your housing fit prior to your room selection date. Learn more about meal plans.
Current residents
Current UA students may apply for housing now. Students will select a room in late-April. Additional information will be sent to housing applicants as room selection dates draw near. As always, current students will select a room before new students giving them first dibs on available spaces!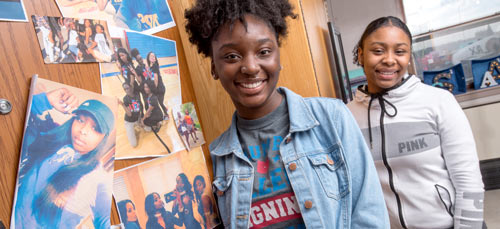 Explore the halls
When deciding your preferred halls, it is important to consider what options are the most important to you. Here you'll find everything you need to pick a building and make your room your own.