Bunking and lofting your bed
When you first get into your room
All apartments and residence hall bedrooms are furnished with a desk, dresser, wardrobe, and adjustable bed for each student. All beds will be set in the Junior loft position upon arrival.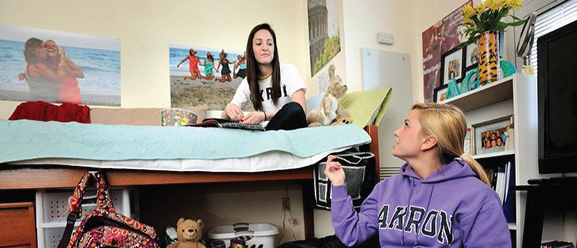 What if I want to adjust the height of the bed?
There are three other options. Not all bed configuration types are available in all locations. Please use the chart to determine what is available in your building.
Standard height – bed springs 12 inches off the floor.
Junior - the most popular and space efficient set-up as shown - allowing the dresser and other items to be stored under your bed.
Bunked – one bed stacked on top of the other bed
High loft – similar to bunking in terms of height of the top bed, but instead of a bottom bed only the head board, foot board, and a support beam are used. This allows for a desk to be placed under the bed and still be able to use the desk in its intended capacity.
In adjusting your bed, you will need:
A rubber mallet – available for check-out from the service desk in your building.
At least two people total to complete modification of your beds.
The written instructions below before beginning modification.
Download the instructions on how to adjust your bed
Who changes my bed configuration?
Changing between desired configurations is the responsibility of the student using the provided directions. The exception is for students wanting high lofts in Bulger, Spanton, and Orr. For these high lofts, students should log into My Akron – My Housing using their UA credentials. Student should select the Bed Configuration option. Login to My Housing to make a request.
Building

Standard Height


Junior Loft (standard for all)

Bunked*

High Loft*

Bulger

Exchange

Honors

Orr

Ritchie

Quaker

Sisler-McFawn

Spanton

Spicer

South
*Residence halls that do not offer bunking are due to single room configurations.
**Honors Residence hall does not have additional available parts for high lofts. High lofts in Bulger, Orr, and Spanton are only an option as parts are available.