TechCred
TechCred (www.TechCred.Ohio.gov) helps Ohioans learn new skills and helps employers build a stronger workforce with skills needed in a technology-infused economy. These technology-focused credentials take a year or less to complete. When an employee completes a credential, the state will reimburse the employer up to $2,000 of the cost. To learn more about the credentials you can earn at The University of Akron, contact Rose Withem at wrose@uakron.edu or call 330-972-2116.
Featured Classes:
Upcoming Computer classes
Improve your computer skills in as little as 6 hours! Our classes provide you with the opportunity to engage in basic, intermediate and advanced levels of Excel 2019. Each course is currently offered at The University of Akron's Main and Medina Campus for your convenience.
Project Management Essentials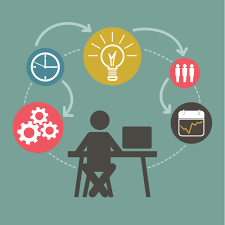 Franklin Covey's Project Management Essentials™ For the Unofficial Project Manager will help participants consistently complete projects successfully by teaching them to implement a disciplined process to execute projects and to master informal authority.
Lean Mastery
Lean is a customer focused philosophy used to continuously improve any process through the elimination of unnecessary steps. Eliminating these steps and focusing on what is important to the customer will typically result in a 15-40% increase of revenue! Our Lean Mastery program is an intensive 6-day class that focuses on practical skills aimed at generating results.
Customized Corporate Training
We'll bring the classroom to your location!
Companies are distinct and differentiated in their needs and requirements. We actively look to form a working, responsive partnership with your organization to assist with developing and implementing new strategies that will achieve new goals or solve current problems.