*** Akron Polymer Training Services now offers remote learning training courses featuring live instructors. For more information, visit our Online Course Requirements webpage. ***
Surface Treatment of Material for Adhesive Bonding
Course description
Time: 8:00 AM - 4:00 PM
Location: 240 South Forge Street, Akron, Ohio 44325
Classroom 217 (Located inside the National Polymer Innovation Center)
Cost: $800 USD
CEU's: 0.8
Instructor: Dr. Sina Ebnesajjad
Course Overview
Adhesion using an adhesive has proven to be an effective means of material bonding. In general five steps must be taken to adhesively-bond two objects together successfully:
Proper choice of adhesive.
Good joint design.
Cleanliness of surfaces.
Wetting of the surfaces that are to be bonded together by the adhesive.
Proper adhesive bonding process (solidification and cure)
Modification of the surface of the substrates (Steps 3 and 4 above) is the topic covered in this one-day course. Participants will gain both theoretical and practical knowledge of the most important methods of surface treatment for different materials. Practical methods of surface treatment of materials for adhesion will be emphasized. A major focus of the course will be on polymeric materials because of the their increased use in important applications such as automotive and aerospace. A range of topics will be covered from cleaning the surfaces of the substrates to the use of dry and wet chemical methods to modify the material surfaces.
Instructor Biography: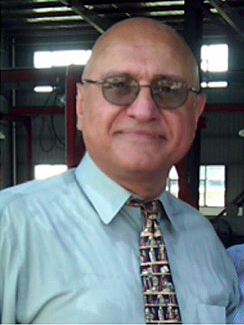 Sina Ebnesajjad founded the FluoroConsultants Group (www.FluoroConsultants.com) in 2006 where he has been working as a consultant globally. He retired as a Senior Technology Associate in 2005 from the DuPont Company after 23 years of service. He holds six patents. His experiences include fluoropolymer technologies, surface modification of materials and adhesive bonding.
He is the author, editor and co-author of over fifteen technical books including three books in surface treatment of materials and adhesives technology and seven handbooks of fluoropolymers technologies and applications.
Sina is also The Series Editor of Plastics Design Library, published by Elsevier; he oversees Elsevier's engineering publications in the areas of plastics, elastomers and adhesives. He earned his master's and PhD degrees in Chemical Engineering from the University of Michigan, Ann Arbor.
Part I
Definitions Adhesive Bonding, Adhesives and Surface Preparation
Theories of Adhesion
Adhesive Failure Modes and Mechanisms
Introduction to Surface Treatment Methods

Degreasing
Abrasion
Chemical Treatment

Surface Tension and its Measurement
Surface Energy of Solids and its Measurement
Surface Characterization Techniques
Adhesive Bond Testing
Part II
Summary Review of Surface Preparation Techniques

Surface Treatment of Metals
Surface Treatment of Plastics
Priming
Sol-gel Process

Methods for Evaluating Effectiveness of Surface Preparation
Surface Preparation of Metals
Surface Treatment and Bonding of Ceramics
Surface Preparation of Polymeric Materials

Surface Preparation of Thermoplastics
Surface Preparation of Thermosets
Surface Preparation of Reinforced Thermoplastics
Surface Preparation of Plastic Foams
Surface Preparation of Rubbers
Surface Preparation of Thermoplastic Elastomer
Surface Preparation of Painted Surfaces
Plasma Treatment of Polymers

Effects of Additives on Surface Treatment of Plastics
Adhesion Promoters