Zhong-Hui Duan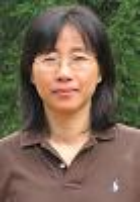 ---
Biography
Research Interests:
Fast Algorithms and Scientific Computation, Bioinformatics, Computational Biology
Selected Publications:
Mihir S Sewak, Narender P Reddy, Zhong-Hui Duan, Gene Expression Based Leukemia Sub-classification using Committee Neural Networks, Bioinformatics and Biology Insights, 3:89-98, 2009.
Adarsh Jose, Dale Mugler, Zhong-Hui Duan, A Gene Selection Method for Classifying Cancer Samples Using 1-D Discrete Wavelet Transform, International Journal of Computational Biology and Drug Design, 2:398-411, 2009.
Zhong-Hui Duan, Brent Hughes, Lothar Reichel, Dianne. M. Perez, and Ting Shi, The Relationship between Protein Sequences and their Gene Ontology Functions, BMC Bioinformatics, 7:S13, 2006.
Zhong-Hui Duan, Robert Krasny, An Ewald Summation Based Multipole Method, Journal of Chemical Physics, 113: 3492-3495, 2000.
Zhong-Hui Duan, Louis N. Howard, A Modified Gambler's Ruin Model, Proc. Natl. Acad. Sci. U.S.A., 93: 10007-10011, 1996.
---