Chris Hariasz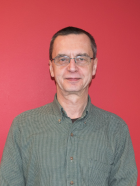 Title: Technical Director, Senior Lecturer
Dept/Program: School of Dance, Theatre, and Arts Administration
Office: Guzzetta Hall, 394C
Phone: (330) 972-6499
Email: hariasz@uakron.edu

---
Biography
Chris Hariasz has been involved with performing arts (esp. theatre) for over 45 years, most of it in the academic setting. Dr. Hariasz has designed and executed lighting for over 200 theatre and dance productions of various complexity and scope, in a variety of venues, on two continents. He holds a Ph.D. in Communication Studies and an M.S. degree in Arts Administration. He has taught theatre, communication, and arts administration classes at the University of Pennsylvania, Kent State University, and the University of Akron.
He considers the task of academic instruction to be a combination of teaching and learning, that is, "a give and take" between the instructor and the students. Dr. Hariasz expects the students in his shops, theatres, and classrooms to be curious and active participants. He strives to see everyone as a potential bearer of the torch. As an artist, he believes in openness to different cultures, different peoples, and diverse approaches to esthetic creation. Hariasz subscribes to the ideal of collaboration in the making of performing arts, and enjoys challenging work alongside both young and old, as long as they are able and not afraid to display open minds.
---
Research
Viewing Conventional and Comedy Television News: A comparison of antecedents and media effects. Dissertation published by OhioLINK ETD Center.
Available at: http://etd.ohiolink.edu/view.cgi?acc_num=kent1354065857
Proxemics of the stage. A communication perspective; Paper presented at the annual convention of the Eastern Communication Association, Philadelphia, PA, April 2006.
The Name Game – Introductory icebreaker; Panel presentation at the annual convention of the National Communication Association, Boston, MA, November 2005.
The Case of Divided Attention. Explorations of item validity in audience attentiveness scale; Paper presented at the annual convention of the Eastern Communication Association, Washington, DC, April 2003.
Długi cień historii. na przykład, 1-2, pp.7-9, Lublin, 1999 
(Interview with Ian Watson, theatre scholar, Chair of Dept. of Visual and Performing Arts, Rutgers University, NJ)
Dlaczego mecenat się opłaca? na przykład, 6-7, pp. 11-13, Lublin 1999
(Investigation of the economic impact of non-profit arts organizations)
Gabinet wzruszeń. Dialog, 2 (449), pp. 131-136, Warsaw, 1994
(Study of actor's form in Tadeusz Kantor's Cricot theatre)
Lista pasażerów "Margaret Evans." Studia Norvidiana, 5-6, pp.191-204, Lublin, 1988-89
(Analysis of historical/archival material related to Cyprian Norwid's poetry)
Editor of two regional bulletins for the Solidarity Labor Union, Lublin, Poland, 1980-1981
Several essays, editorials, articles, short stories, and poems published in Polish and émigré press (France, Great Britain, Germany, USA), 1978-2000
Several theatre plays and prose adaptations presented by various theatre companies in Poland, Great Britain, and the USA, 1978-2016
Directing: Several plays directed at the University of Akron, University of Pennsylvania, and various theatre companies in New York City and Lublin, Poland.
Acting: Acted at the University of Akron and with the New World Performance Laboratory (Akron, OH), as well as in several plays by Provisorium Theatre (Lublin, Poland).
Lighting Design: Over 120 theatre and dance productions in a variety of spaces, including proscenium, black box, arena, outdoor, touring, etc.
Scene Design: Several designs of various scale in a variety of spaces.
Education
Ph.D. in Communication Studies; Kent State University, Kent, OH, 2012
M.S. in Arts Administration; Drexel University, Philadelphia, PA, 1987
Magister Prawa (Equivalent of graduate law degree); Maria Sklodowska-Curie University, Lublin, Poland, 1979
---
Courses
Graduate:
Research and Writing Techniques in Arts Administration
Advanced Technical Theatre
Theatre Undergraduate:
Theory and Practice of Public Discourse
Stage Lighting Design
Basic Stagecraft
Experiencing Theatre
Other:
Conducted several workshops in experimental theatre in:
Poland
Italy (L'Aquila)
Germany (Scheersberg, Kiel)
Great Britain (London)
USA (Philadelphia, PA)
---