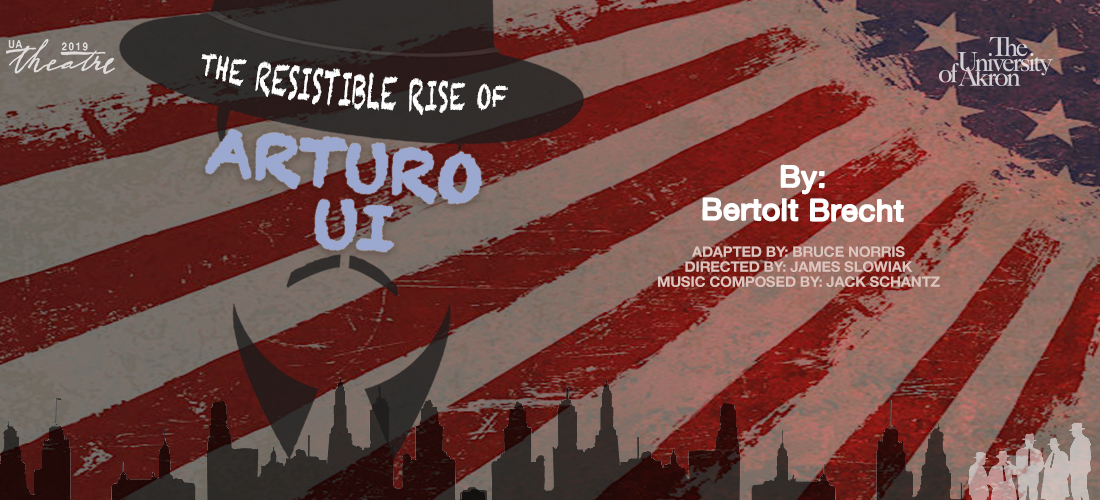 About
the Play

Written by Bertolt Brecht and adapted by Bruce Norris, "The Resistible Rise of Arturo Ui" tells the story of a city of jazz and gangsters, corruption and deception, poverty and the unmet desire for opulence, Chicago in the Great Depression serves up prime conditions for a small-time crook like Arturo Ui to hit it big and make a name for himself. A response to the rise of Adolf Hitler and the Nazi Party in Germany prior to World War II, Brecht's "The Resistible Rise of Arturo Ui" is a satirical allegory, confronting notions of tyrant and bystander, ambition and ignorance, propaganda and truth.
---
Playwright Biography
BERTOLT BRECHT (Playwright)
Born in Bavaria, 1898. At 24, his cutting-edge Drums in the Night won him Expressionist recognition. His quickly written Three Penny Opera was Germany's greatest hit of the 1920's. Revolutionary in form for 1928 – non-operatic, anti-highbrow musical theater – and cynically satirical, it irritated the Nazis; Brecht left Germany with his family in 1933. He continued to write in Scandinavia (e.g. Mother Courage) until the Nazi invasion. In California, along with some work for Hollywood, he wrote The Caucasian Chalk Circle and Galileo, produced in L.A. in 1947. The House Un-American Activities Committee interrogated him that same year; he left the U.S. the following day. He established the Berliner Ensemble in 1949 in East Berlin, opening Mother Courage with his wife Helene Weigel; its 1954 tour to Paris brought him recognition as Europe's most important director, a year before his untimely illness and death.
---
Meet the Cast
"The Resistible Rise of Arturo Ui" features a cast of 15 UA students representing diverse areas of study.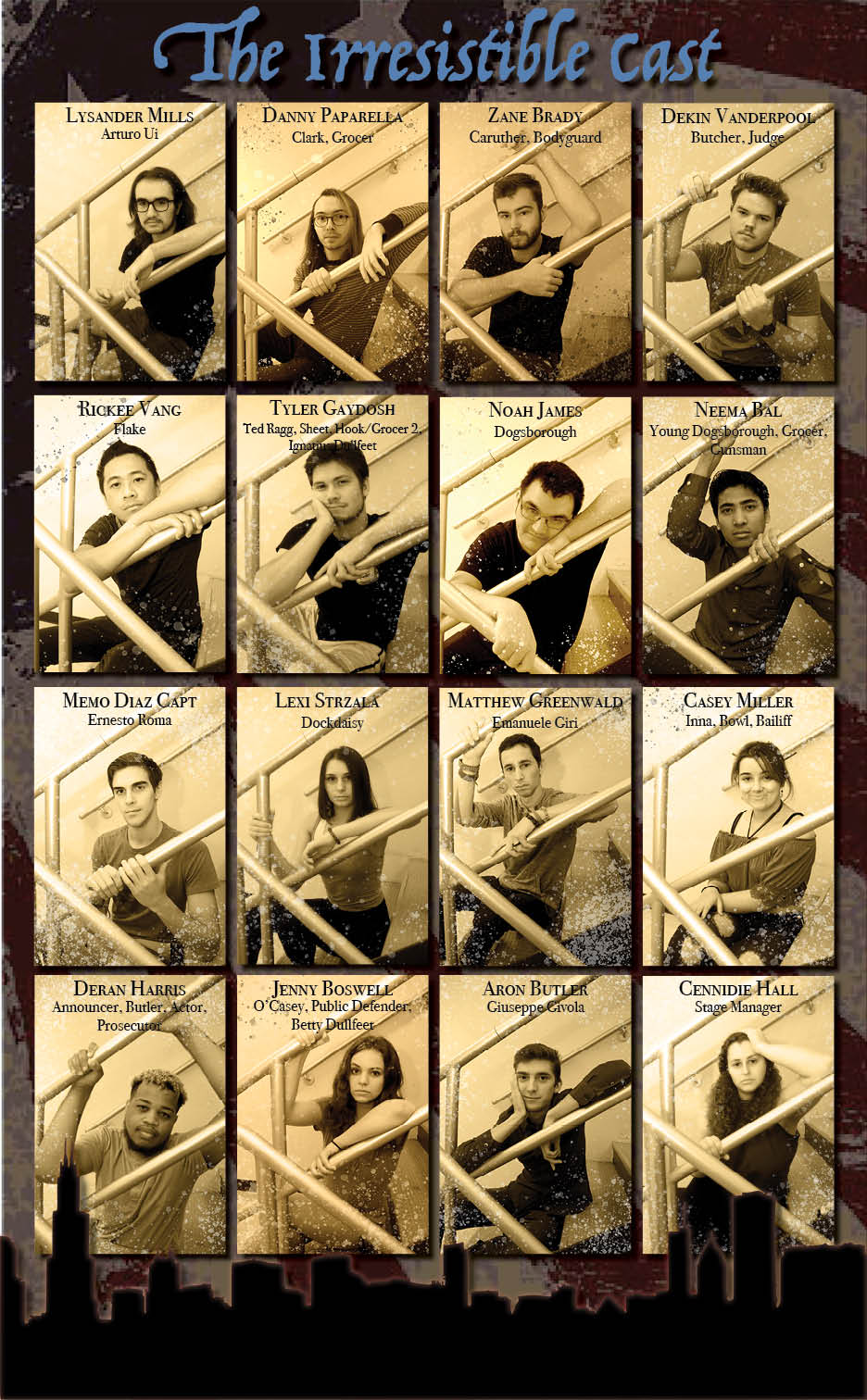 Show Information
Sandefur Theatre - Guzzetta Hall
October 31,2019, November 1 & 2, 2019 | 7:30 PM
November 7, 8, 9,2019 | 7:30 PM
November 3 & 9,2019 | 2:00 PM
Tickets:
$10 - General
$5 - Students
Tickets may be purchased through Eventbrite or call 330-972-7895 to reserve.
---
Alumni Night (November 1, 2019)
Reconnect with friends and meet new students at this special evening. Come and support the continued success of The University of Akron Theater Arts Program.
We look forward to seeing you! For immediate questions, call 330-972-7895.
---
UA Resident Student Appreciation Night (November 7, 2019)
Join us for a coffee & dessert reception at 7:00PM before the performance. Complimentary tickets may be obtained during Resident Student Ticket Rush at the box office ten minutes before showtime. No registration is required.
Come mingle our UA Resident Student Community! For immediate questions, call 330-972-7895.
---
Did you attend a show? Take our audience survey.
If you attended one of our performances of "The Resistible Rise of Arturo Ui" please take a moment to complete a short survey.
For immediate questions, call 330-972-7895.